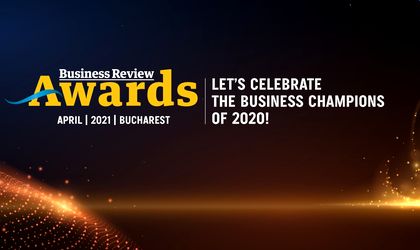 This April, the Business Review Awards Gala is set to reach its 16th edition, and with it Business Review will shine the spotlight on the achievements of the Romanian business community, thus awarding and celebrating the companies, business leaders and entrepreneurs that showed drive, initiative and who achieved the best results in their class of business.
Today we are officially kicking off the nomination period for the Business Review Awards! Nominate the great projects and successful leaders that stood out in what was a very peculiar 2020. The nomination period will be open until March 19, so make sure to have your voice heard and reward the business heroes who deserve it.
Update: nominations period extended until March 31! Find the nominations form by clicking the banner below:
The BR team will review all nominations and if all requirements are met, your nomination will be shortlisted and submitted to the Business Review Awards Jury, which consists of top senior professionals representing the business community:
Lara Tassan Zanin, HEAD OF ROMANIA REPRESENTATION | EUROPEAN INVESTMENT BANK;
Marian V. Popa, MANAGING DIRECTOR | GLOBALWORTH ROMANIA;
Andrei Gemeneanu, CO-FOUNDER & MANAGING PARTNER | MORPHOSIS CAPITAL;
Marius Ghenea, SERIAL ENTREPRENEUR AND BUSINESS-ANGEL | MANAGING PARTNER | CATALYST ROMANIA;
Dragos Anastasiu, PRESIDENT | AHK ROMANIA;
Ramona Jurubita, FIC PRESIDENT | COUNTRY MANAGING PARTNER | KPMG;
Irina Munteanu, CHIEF FINANCIAL OFFICER | VEOLIA APA NOVA;
Mihaela Bitu, CEO | ING ROMANIA;
Fady Chreih, CEO | REGINA MARIA – THE PRIVATE HEALTHCARE NETWORK;
Anda Sebesi, EDITOR-IN-CHIEF | BUSINESS REVIEW MAGAZINE.
While some established categories will also feature at the 16th edition of the Business Review Awards, 2020 was indeed a truly exceptional year, unlike any other in recent history, a number of 9 new categories will be introduced at this year's gala, which will reflect the challenges which companies and business leaders alike had to overcome in order to keep moving forward! Thus, we are proud to present the 11 categories, plus the Business Review Special Awards, a section where several Romanian companies and personalities will be awarded for their merits.
1. Best CSR Initiative of the Year;
2. Best supporter of healthcare services;
3. Working Romania Champion of the Year;
4. Most Adaptive Business Model in 2020;
5. Innovator of the Year;
6. Executive of the Year;
7. Excellence in Business;
8. Most Dynamic Company of the Year;
9. Entrepreneur of the Year;
10. Company with the Highest Social Impact in 2020;
11. Personality of the Year;
12. Business Review Special Awards.
To find out more about each category's description and judging criteria, see the dedicated section on the event's page.