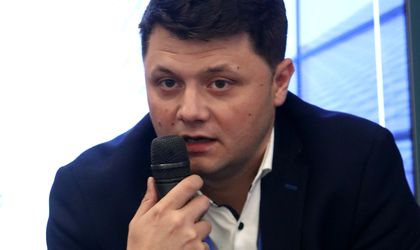 Veolia focuses on three main business lines – water, energy, and waste management – which are analysed and integrated into a digital system called UrbanX, developed by Veolia and French partners and first implemented in French cities, starting with Lyon, said Valentin Zaharia, Network Optimisation Manager at Veolia, at BR's Rising Cities. Smart Future event on Wednesday.
"UrbanX contains three modules which share public data: the first is for public authorities, the second for citizens and the third for service operators. All the data comes from equipment installed on site, which can analyse anything from pollution, water quality, waste quantities, traffic, and many other aspects in a city."
Zaharia added that solutions implemented by Veolia in other countries can be replicated and adapted to Romania as well, and that his has already started to take place in Bucharest.
"You may have noticed that starting with 2015, Apa Nova services improved significantly in Bucharest, but it's not only in our power to make quick improvements. At least 80 percent of the Zonal Urban Plans (PUZ) we've seen so far have lacked documentation regarding public services equipment, including water and sewage. How can you develop an area without public service network planning?

We contributed where we could for Districts 2 and 4, and results were quick to appear, we have already started works in certain areas, which will then be integrated with the rest of the system."
He also talked about another major aspect that should be taken into account in smart city planning, namely energy.
"In other countries and recently in Romania as well, Veolia has worked on energy transformation projects towards more sustainable production sources. For example, we're involved in such a project with the Iasi municipality, as coal production is no longer a viable solution due to huge CO2 emissions that cannot be kept within EU standards.

Most countries in central and eastern Europe have developed strategies until 2030 regarding energy production transformation – this should be a solution for Bucharest as well, together with the integration with other public utility services and smart city policies.

In Bucharest, we've contributed to the masterplan for water and sewage systems for the next 30 years – it was approved a month ago by the General City Council."