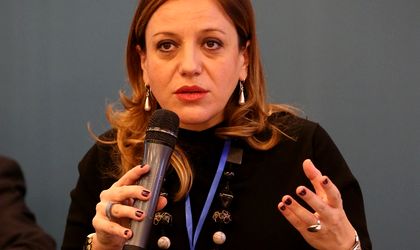 Smart projects need financing and the European Investment Bank (EIB) is one of the institutions that provide loans to these types of developers. Since it is not driven by profit, but by policy objectives, the EIB is able to provide competitive long-term loans, said the Head of the EIB's Bucharest office, Lara Tassan Zanin, at Business Review's Rising Cities. Smart Future conference on Wednesday. 
EIB finances projects, not ideas, and offers a longer loan tenure than conventional banks. Romania is one the shareholders of the EIB, and the focus here is on smart city projects that respond to EU policy objectives.
"Smart city investments are music to our ears and we'd like to be involved in many more of them across the European Union," says Lara Zanin, mentioning projects the EIB has in Romania related to energy efficiency, including in collaboration with Metrorex.
In order to develop a smart city, according to the EU vision, you need to have a multi-year plan, with a multi-sector approach, as the mandatory starting point, the EIB representative said.
"We can talk about smart counties as well, not only smart cities, but authorities should look at their competitive advantage, such as human capital. Many students from good universities in smaller cities either leave Romania or move to Bucharest.

Incubators and science or industrial parks could and should be developed by these secondary cities in order to retain graduates and talent," says Lara Tassan Zanin. "We want to see plans that work towards sustainable development with 3 important elements: inclusive programs, innovative projects (using the latest technologies) and integration (it should not be an isolated project, but part of a bigger vision)."
An incubator for smart projects has to take into account specific skills provided by universities in that particular city.
"The EIB sees many interesting projects, but they are often not linked to the city's characteristics. EIB offers free technical assistance for strategic project planning. 

Unfortunately, until now we haven't seen a big interest in smart cities in Romania. We need commitment for these projects and we are here to help," says Lara Zanin, adding that a lot of major investments in Romania have had an EIB contribution, either through financing or technical assistance.
EIB's Bucharest office is the institution's largest office in Europe, but the team has noticed that there is a lack of proper communication between people and authorities. This is an issue in all EU countries, but the important thing is to focus on solutions, even if they are not easy to find.
"We are working with almost all the commercial banks in Romania in order to finance smart projects, but the banks claim there is not enough demand for this kind of financing," says Lara Zanin.
The international bank lends about EUR 1 billion to Romania each year. Half of the money goes to the private sector and the other half goes to the public administration.
"There are many projects that can be multiplied tenfold, and they should be. We have about 40 experts in Bucharest who are working with clients on projects as it is paramount to see that the projects are implemented," says Lara Zanin.