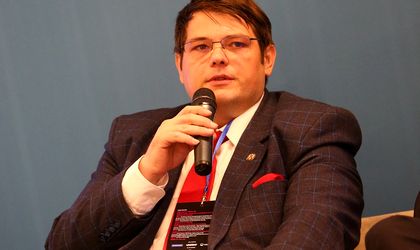 The idea of smart cities is quite an abstract concept in Romania, as we don't really have a clear view of where this should begin or end, said Ioan Gaf-Deac, City Manager at Bucharest District 4 City Hall, at Business Review's Rising Cities. Smart Future conference on Wednesday. He added that citizens and companies welcome the implementation of smart city projects, but that there are still people working within public institutions who tend to resist these changes because they don't fully understand them and may be afraid of losing their jobs as certain processes are automated. 
"In District 4, we've come up with projects to improve the lives of people living in the community. The district has quite a large number of people living in apartment blocks, so authorities need to ensure they collect enough revenues in order to properly manage the services they provide to the population. This can be difficult, but the answer isn't raising taxes for people, but finding more sources of revenue, so one of the most important things we can do is to develop infrastructure to help businesses grow and attract new businesses, which in turn increases public revenues from the taxes they pay."
Ioan Gaf-Deac provided some examples of recent projects implemented in District 4, related to both infrastructure as well as to changing the way people interact with public authorities.
"We enlarged Berceni Road, which serves the industrial area, which has some very big companies, including Can-Pack, a company that told us it would double its production capacity if we enlarged this road, and that is exactly what happened, resulting in more jobs for people in the area and more revenues for the City Hall. Also in terms of infrastructure, we're working on extending the subway infrastructure to the city limits, in partnership with the Transport Ministry and Metrorex. The bidding process for the construction has already begun and it's at an advanced stage.

We're also trying to change the way we're interacting with the citizens. Our urban mobility department is the first fully digital public service in Romania – we've implemented the digital signature and we'll go paperless in December. It's been quite a big challenge as we've had to prove that this kind of service can be accessible to everyone, even for older people, who may not know how to use new technologies, but we've shown that they can adapt quickly as well.

People can pay taxes from any supermarket using machines, and we're soon going to launch an app as well, which will even allow you to choose the date and time of your marriage ceremony. Registering a company in District 4 no longer requires going to the city hall – you can do it online."
To conclude, the District 4 City Manager said that all the small projects that have been implemented in the district have been part of an integrated concept from the beginning. "These will all be included in a smart city strategy for the next 5-10 years," he said.