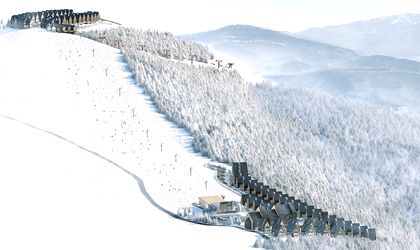 Alessio Karkhi and Nicu Hagivreta, two known local business men, started the development of touristic project Murotti Valley, located in Varful Roman (1,850 meters) area, 17 km from Horezu (Valcea county). The first phase of the project will be delivered in Q1 2021 and at the end of next year and will comprise 74 villas, two restaurants, two ski slopes along all the necessary amenities, and a hotel
The first phase of Murotti Valley will attract an investment of EUR 10 mil and will comprise 74 villas with two, three and four rooms, and an entire list of facilities. A ski slope with a length of 800 meters and a ski lift installation is already operational and a second sky slope, with a length of 5,000 meters and a chairlift installation, will be completed until the end of 2021.
The 74 villas will be completed in the first quarter of 2021 (39 units) and at the end of 2021 (35 units). Two restaurants and a hotel with spa, pools and gym will also be included in the first phase of the project. All the necessary infrastructure will be also completed in the first quarter of next year.
Overall, Murotti Valley will be an integrated resort with a potential of up to 1,000 villas and an entire list of facilities and leisure options regardless of the season, from 50 km of ski slopes to shopping areas, spaces for renting sport equipment and dedicated spaces for children.
"Murotti Valley will be a unique concept in Romania and in the region. Our objective is to develop a new mountain resort, with multiple facilities and leisure options. We started our project from the necessity of an integrated mountain resort in Romania, a country with so much natural and attractive resources but with very little tourist attraction from a product perspective. We want to develop the local tourism sector and to bring it to Western standard, to highlight the beauties of this country", stated Alessio Karkhi, one of the investors in the project.
Murotti Valley will also offer an unique investment package for the Romanian market. Thus, those who will want to acquire a villa in the project for investment will be guaranteed an annual yield of 7% for a period of 11 years, regardless of the renting period – this being the longest such period in Romania – and will also have a usage right of 30 days per year.
"We will guarantee one of the biggest yields for the longest period in Romania, 11 years, bigger compared to similar project from the seaside or even Bucharest. This denotes both the confidence in the project but also the investor's commitment of delivering the project, a very large one", added Viorel Mohorea, project manager on behalf of SVN Romania, the project's real estate consultant and exclusive agent.
Murotti Valley is projected to include at completion over 50 ski slopes, tennis fields, bike paths, forest trails, shops and spaces for services and sport equipment renting, ATVs and snowmobiles, outdoor swimming pools, hunting ground, stud farm, golf course, farm and a children park. Finally, Murotti Valley is also projected to include a campus of a university from Switzerland, a care centre for seniors and a detox clinic, while the residential area of the project could include up to 1,000 villas.
The first phase 74 villas will have two, three and for rooms, with overall surfaces starting from 127 square meters up to 180 meters, with land plots from 315 meters and two parking spaces included, and will have prices from EUR 130,500 + VAT. All individual units will be constructed using green certified techniques, with a lower impact on the environment, and each villa will have preferential design and furniture solutions from Rovere Mobili.