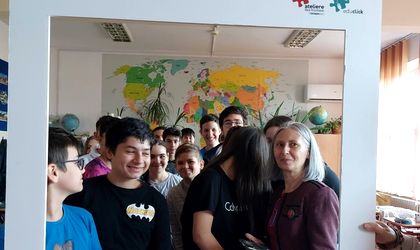 Through the Dăm Click pe România / Let's Click on Romania program, now in its third edition, the Asociatia Ateliere Fără Frontiere has, during November 17-18, 2022, equipped the IT laboratories of seven educational institutions in Teleorman County with over 100 IT equipment refurbished in the educlick workshop, which more than 2,000 students will benefit. This year's edition was made in partnership with Kaufland Romania and OMV Petrom.
Dăm Click pe Romania/Let's Click on Romania supports schools and children from marginalized rural and urban areas for whom the digital transition accelerated in recent years by the context of the health crisis has brought to the surface a truth that statistical data has been emphasizing for a long time: the lack of digital infrastructure in schools , which inevitably leads to children who lack basic computer skills. To adapt to the new demands of the labor market, these students need devices, at home or at school, from which to learn applications and platforms that today are necessary to have an equal chance at a decent life.
Through Dăm Click pe Romania/Let's Click on Romania, the Ateliere Fără Frontiere Association has proposed that 4,000 refurbished computers be donated in 2022 to educational institutions that need such devices to run classes normally. On the occasion of the visit to Teleorman, the Association celebrated the 3,000th refurbished computer donated in 2022 and arrived at Kindergarten no. 1 Stejaru, Mihai Eminescu Secondary School, "Dan Berindei" Secondary School, "Putineiu" Secondary School, Secondary School No. 3 Zimnicea, Roșiorii de Vede National College "Anastasescu" and Alexandria Children's Palace.
Since 2008, the Ateliere Fără Frontiere Association has so far donated over 600 refurbished computers to more than 90 schools in Teleorman County.
"For hundreds of thousands of students, school is the only opportunity to use IT equipment that they would otherwise not be able to afford at home. Through the Dăm Click pe Romania/Let's Click on Romania program, we aimed to reduce the educational inequity based on the material situation of the family", confesses Damien Thiery, general director of Ateliere Fără Frontiere.
—
"For 6 years, together with Ateliere Fără Frontiere, we have been providing schools in Romania with refurbished IT equipment and we enjoy every opportunity to meet students and teachers from the country. It is a valuable exchange of experience through which we want to promote not only the benefits of education, but also the importance of protecting the environment through the circulating economy. We support Dăm Click pe România/Let's Click on Romania, a project made possible thanks to the partnership between the private sector, civil society and educational institutions, which proves that Involvement makes a difference!", said Katharina Scheidereiter, CSR Manager Kaufland Romania.
The computers donated through Dăm Click pe Romania/Let's Click on Romania are part of the circular economy process of Ateliere Fără Frontiere, through which the association obtains used IT equipment as an authorized collector from companies and various organizations, with the aim of being refurbished by the employees in the program of socio-professional insertion, with the ultimate goal of being donated to schools in vulnerable areas of the country.
Companies that want to support the Association in this endeavor can hand over the IT equipment they no longer use by sending a message to the address: colectare@atelierefarafrontiere.ro.