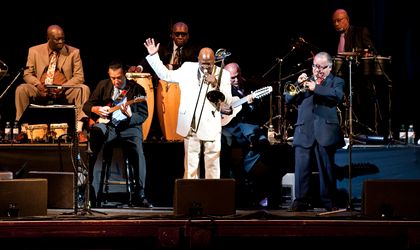 Orquesta Buena Vista Social Club will follow up their 2006 visit to Romania with a new show taking place on May 24 at Sala Palatului in Bucharest. Guajiro Mirabal, Manuel Galban, Barbarito Torres, Aguaje Ramos and ten other instrumental performers will play famous pieces like Chan Chan, El cuarto de Tula, Candela and Dos gardenias, and will pay tribute to their former colleagues, Ibrahim Ferrer, Compay Segundo, Ruben Gonzalez and Orlando Cachaito Lopez.
The concert is organized by the Phoenix Cultural Foundation which since 2005 has brought to Bucharest celebrities like Omara Portuondo, Eliades Ochoa and Roberto Fonseca.
Tickets for the Bucharest show will be available on the websites www.eventim.ro, www.bilete.ro, www.blt.ro or from Germanos, Vodafone and Muzica stores and also from Humanitas and Carturesti bookshops.
The original albums by Buena Vista Social Club are distributed in Romania by A&A Records and will also be available at the concert, at promotional prices.
Bucharest audience have had the chance to participate in many Cuban music concerts, with a lot of bands from the country making use of or referencing the Buena Vista Social Club brand.
Otilia Haraga