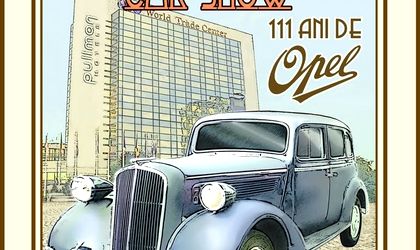 Bucharest World Trade Plaza (Pullman Hotel) will be the host of the inaugural edition of Bucharest Classic Car Show between June 10 and June 13. The event is organized by World Trade Center Bucharest and the Vintage Cars' Club (Clubul Vehiculelor de Epoca).
Addressed to connoisseurs, as well as to novices, Bucharest Car Show 2010 will reunite over 50 models of vintage vehicles. Private collectors, specialized clubs and restoration firms will be brought together under the same roof and passion.
Among the exhibited models, there will be: a Ford T Speedster – 1912, Ford A – 1928, Plymouth – 1938, Buick Century 8 – 1938, Aero – 1936, Mercedes 230 – 1940, Lincoln Continental – 1963. Vintage race cars, auto collectibles, along with decor elements, such as: a retro gas station, a demonstrational car restoration studio, old license plates, dashboard clocks and old-fashioned car tires will also be on display. Much to the delight of car lovers, car demonstrations will also be organized. Several vintage items will be available for sale.
Visiting hours:  10:00-18:00, on June 10, 11, 12 and 13.
Location: World Trade Center Bucharest, Conference Center (Montreal Square, no. 10).
Corina Dumitrescu