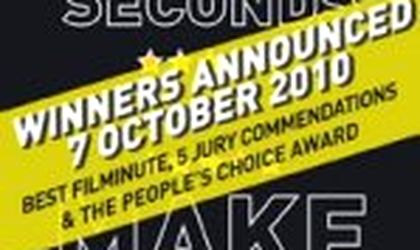 After a month of online screenings, Filminute 2010 has announced the award winners for this year's film festival.
Choose not to Fall was selected for the top honors by the seven-member international jury of the one-minute film festival.
It is the first time that a documentary has won. The online festival audience from 124 countries, with each viewer permitted one vote only, chose the Romanian comedy A New Prayer for the People's Choice Award. It edged out efforts from Iceland and South Africa to win the popular vote. The top-rated film was Dark Valley, an inventively frightening film from Iceland that takes place in an SUV standing in the frozen tundra.
"The range of countries and stories on the jury's commendation list support what we said when we started Filminute in 2006: one-minute films level the playing field. These films prove that no country has a monopoly on great stories," said Filminute co-founder Sabaa Quao.
Founded in 2006 by John Ketchum and Sabaa Quao, Filminute is an international film festival run by staffers in Bucharest, London, Toronto, Vancouver and Panama. Each year, the festival experiments with different platforms to complement the main site, Facebook being a big hit this year.
This year's jury was made up of Neill Blomkamp, the South African director of District 9; Mark Tutsell, global chief creative officer for Leo Burnett Worldwide; Jan Lumholdt, the Scandinavian film critic for the popular Swedish daily newspaper Svenska Dagbladet; film historian and critic Ronald Bergan; and Indian director and writer Tanuja Chandra. Founders Ouao and Ketchum are on the jury as well.