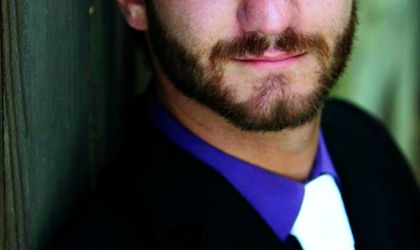 "Men let me hug their wives because they know I'm not going to lay a hand on them," joked Nick Vujicic at the start of his talk in Bucharest last week. It was one of many moments of humor from the motivational speaker, who was born with Tetra-amelia, a rare disorder that left him with no arms or legs.
But from the witty patter and relaxed Australian delivery emerges a serious message, one about finding your purpose, keeping the faith and not giving up on your goals. At 28, Vujicic has now spoken publically 1,500 times, in 39 countries, to 4 million people including 7 presidents.
He freely admits that his first 200 talks weren't very good. As a student it took him 53 phone calls to secure his debut speaking gig – a five-minute presentation to ten students a two and a half hour drive away from his home. But it's not about where you start, says Vujicic.
In his talk he returns to the example of Thomas Edison, whose efforts to make the light bulb were successful on the 10,000th attempt. "I didn't fail 9,999 times," said the inventor. "I know 9,999 ways not to make a light bulb."
Treat failure as education is one of Vujicic's key pieces of advice. The others include: you don't know what you can achieve until you try (doctors told him he would never walk; he now not only walks, but swims and even plays golf); when you fail try again; and change obstacles into opportunities.
Things – including important things like peace of mind and happiness – don't come easy, whether you have limbs or not. The messages are not revelational or complex, but hearing them from someone who lives so fully and hopefully despite the enormous odds against him gives them new impact.
In short, Vujicic says, we all have a choice: to be angry about what we don't have, or thankful for what we do have. It's a philosophy cutely encapsulated in one of his funniest anecdotes.
A child was looking Vujicic up and down, taking in his lack of arms and legs. "Oh well," concluded the boy, "at least you've got a head!" ∫
Nick spoke in Romania through Top Speakers, www.topspeakersagency.ro. His organization is Life Without Limbs, www.lifewithoutlimbs.org.
Debbie Stowe