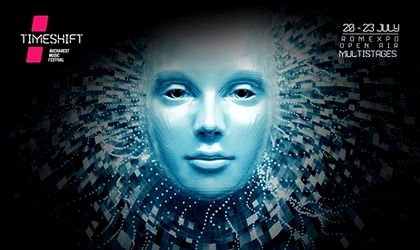 Although it certainly has its share of events catering to the most diverse of tastes, Bucharest is lagging behind other European capitals, and even Romanian cities, when it comes to big music festivals. Will Timeshift be able to make a shift in perception?
When performing on the Main Stage at Neversea (7-9 July), at least two big names greeted the crowd with a now infamous "Hello Cluj!," such is the draw of Cluj-Napoca for the world's most famous DJs. No wonder then that the Romanian capital has long been eclipsed by Cluj, the second largest city in the country, which now has two world famous festivals to its name: Electric Castle, taking place in July and Untold, scheduled for the last of the summer months. This year in its first edition, Neversea drew many to the seaside for three days filled with music acts by big names such as Fatboy Slim, Tiesto and Afrojack as well as up-and-coming DJs such as Nicola Cruz, HVOB and Nina Kraviz, giving Constanta a head start over other cities. That being said, Summer Well, the capital's flagship summer festival, held for two days in August at Domeniul Stirbey (Buftea), is undoubtedly the equivalent of a fresh summer cocktail in the middle of Bucharest's musical drought. However, all eyes&ears will be this week-end on Timeshift, the new kid on the block. The challenge? turning a line-up of great acts by not so mainstream bands and DJs into something bigger than the sum of its parts, namely an experience. Something the Bucharest crowds are more than up for.  
The four-day festival will kick off on Thursday 20 July and will run through Sunday, 23 July. The location, Romexpo, Bucharest's biggest exhibition venue, is both appropriate for open air concerts and well connected to the city center.
According to organizers, over 100 guest artists will play for over 100 hours. "The world keeps on changing, and we're embracing evolution – celebrating it in a futuristic setup, where music lets us know we belong together. The 4 stages will teleport you into the variety of genres each day of the festival," the Timeshift website reads.
Performing for the first time in Romania, Grammy nominated DJ Snake, famous for his collaborations with Justin Bieber, MØ, Lil Jon and Diplo, will headline the first day. Ummet Ozcan, Faithless (DJ SET), Chris Liebing and Dusseldorf-based DJ Loco Dice are confirmed to play on Thursday as well.
Hercules & Love Affair, White Lies, Bloc Party, Orbital, Mystery Jets, Rudimental (DJ SET), Hot Chip (DJ SET) and Alex Metric are scheduled to take over Friday, the festival's second day.
On Saturday, David Guetta, famous for his high profile collaborations with artists such as Sia and Nicki Minaj, will perform on the Main Stage. Mogwai, Robin Schulz, Jonas Blue, Dubfire, Markus Schulz and Joseph Capriati complete the lineup for Saturday. ATB, Above&Beyond, Gareth Emery, Chicane and Goldie are a few of the names that will close the last day of Timeshift.
EDM, techno, tech-house, trance, indie-rock and alternative and music lovers in general are expected at the first edition of Timeshift, July 20-23.