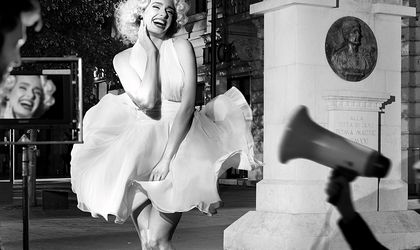 Cluj is getting ready to celebrate the 15th run of the largest film festival in Romania, which will take place between May 27 to June 5. The first confirmed titles, Oscar-nominated pictures or productions awarded at Berlin, Cannes, Venice, Toronto, Locarno or San Sebastian, are the work of masters such as Alexander Sokurov and Terence Davies, and tell fascinating stories from all over the world.
Five official teasers for the 15th edition of the Transilvania International Film Festival were created by the Romanian-British artists Anton and Damian Groves, starting from a concept by Bloom Branding & Design Studio. The main characters in the teasers are played by non-professional artists selected during a casting session organised in Cluj-Napoca.
Each teaser has a Transylvanian twist: Forrest Gump becomes Pădurea Ghimpe (featuring Rareș Brănescu and Dolores Bădulescu), Amélie becomes Amalia (as played by Andrea Cadar), Terminator becomes Terminatul (Gheorghe Iftime), Marilyn Monroe from The Seven Year Itch becomes Mariska (Andra Buicu, a student with the Cluj Theater and Television School, together with Son of Saul's Levente Molnár, a denizen of Cluj himself), while Radu Bereș plays Robert de Niro in Taxi Driver, that is, Taxidermistul, in the Transylvanian version.
"The idea behind this year's visual identity came from our graphic artist Andrei Pastuhov and Bloom Studio creative Domnița Georgescu, who proposed that we re-make famous shots from classic Hollywood movies with regular town folk. TIFF played with this concept in past years, when iconic movie shots were injected with typical Transylvanian spices," says Mihai Chirilov, TIFF Artistic Director.
"The novelty behind this anniversary edition, which is also spearheading the city's strategy for being granted European Cultural Capital status for the year 2021, consists of faithfully re-enacting iconic shots using the actual backdrops and inhabitants of Cluj. Each of the five posters is associated with a teaser in which the city itself becomes a set where an ordinary citizen of Cluj is briefly turned into a recognizable movie character. The posters retain some back stage elements: microphones, flood lights, clappers, loudspeakers, dollies, etc. This also works as a metaphor for the way in which TIFF transforms the city of Cluj-Napoca during the ten days of the festival," Chirilov adds.
Oana Vasiliu