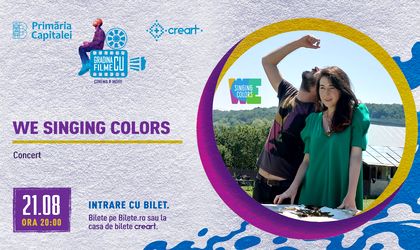 Friday, 21st August, starting 20:00 o'clock, the band We Singing Colors will be playing at Gradina cu Filme, this being one of the first shows after the pandemic started and under the new safety regulations. The access to the concert is done at 19:00 and the tickets can be purchased here.
By Romanita Oprea
We Singing Colors launched on the music scene in 2011 and is a band easily recognizable by the whistle in the "Good Days, Bad Days" heard of the first album launched in 2014, Made of wool, made of Heavy Metal.
After the launched followed many concerts in clubs and festivals all over the country, private events, recordings and a series of concerts in the UK, a tour in Japan and India, live shows and radio session in Spain, Bulgaria, Hungary, Serbia, Slovenia and Moldavia.
The minimalist set-up the band uses helped its members reach some unexpected places and each location offered its magic: a concert in a train, on the oldest railway in Romania, a live session in the woods, at Delta Vacaresti or in a cab, but also an online live Bucharest / Melbourne, straight from the bedroom, in front of some thousands of people.
During the years the band collaborated both on stage and in the studio with musicians such as Vlad Ionescu, Narcis Axinte, Andi Dupont, Andrei Fantana, Victor Mihailescu, Adi Seven, Corina Ciuplea, Paul Ballo, Cosmin Dumbrava, Cosmin Postolache.
The second album, "Lone Learner", was launched in 2018, the singles "Hunger", "Bridal Hands", "Destiny", "Out of the city" and "Get up slowly" having also videos. "All the people" was "Pick of the week" at Balcony TV, while "Wrong Side" received a live session on the platform Diud, where's my tune?
We Singing Colors' latest video was launch in February and is for the song "Nomad".