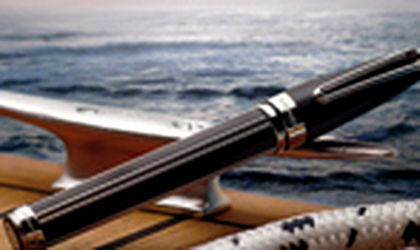 High-end brand Cartier has to offer just about anything from jewelry to lighters, watches, leather accessories and of course, pens. Cartier pens are brought to Romania by Helvetansa, which deals also with watches and accessories. The firm also brings the Italian brand Montegrappa on the Romanian market, "the oldest Italian manufacture created in 1912, which produces 20,000 pieces a year," according to Adrian Stoican, general manager of Helvetansa.
The buyers are collectors or people who appreciate beautiful things as this accessory is becoming increasingly important by itself. "In the era of computers and the internet, writing instruments are still appreciated," says Stoican. As far as the display space is concerned, "the same rules that we have for watches apply: the suppliers send us the specific displays and the guides for decoration."
At this point this niche of the luxury market is worth around EUR 700,000 and will see an average annual growth rate of 30 percent.
"Unlike the watch segment, design tendencies are neither so clear nor so dynamic in this sector," says Stoican. Montegrappa still relies on color and especially limited series inspired by various important moments in humankind's culture and history. This year the brand created the collection La Torre del Pisa. Cartier, in its turn, similarly adjusts to the modern style of creating writing instruments which have charm and a lot of color, says Stoican.
The most expensive pen that Helvetansa had for sale was the Montegrappa Eternal Bird, in gold and rubies, which cost EUR 12,500. Another special item was the Dragon inkwell in pink gold, black diamonds, rubies and Madagascar crystal, part of a limited series of 10 items with the inkwell worth EUR 33,000 alone. "This year we ordered a very special Cartier piece from La Dona limited series of 888 pieces. It is made of gold, peridot and citrine, it has a golden nib and costs EUR 100,000," says Stoican.
In December 2006, Helvetansa, in collaboration with Montegrappa, created a special item dedicated to Romania's accession to the European Union. Several variations of model were created in the limited series, the most spectacular being the one in silver and celluloid. The pen had the European map distinctly engraved and the countries in the European Union were displayed, while the lid was engraved with the Romanian map. "It was a successful project and the market responded extremely well to this initiative," says Stoican.
The sale of pens amounts to 8 percent out of the total sales of luxury brands for Helvetansa. This year, the firm estimates it will register sales of EUR 300,000, says Stoican. The company shares the market with competitors such as Cellini and Micri Gold.
According to media reports, Cartier is currently eyeing the Romanian market with a view to opening a monobrand boutique for jewels. Tom Meggle, the Cartier manager for Switzerland and Northern Europe, said the entrance on the Romanian market could take place in 2008 or 2010 at the latest. The company plans considerable investments in the decoration of the store and Bucharest is a priority for Cartier.
Bogdan Aanicai, head of the Micri Gold store, which deals mainly with jewelry and watches but also accessories, says the customers are people who have attained a high level of wealth, and are regular consumers of luxury brands whether it be cars, watches or jewels. They can be business people, public figures or artists; in fact they can belong to any category which allows them to amass great wealth. Most of the buyers, around 75-80 percent, are men, says Aanicai. Micri Gold sells two brands of pens, namely Bulgari and Chopard. Since brands with tradition are generally very much sought by collectors and the wealthy, they come at very steep prices. Micri Gold can boast of selling a Chopard pen made of gold for approximately EUR 2,375.
The design constantly changes from year to year but with the materials, there is not very much room for variation, the pens being made of silver, gold and steel. "For sport collections, rubber is also used," says Aanicai. The display space is not exclusively arranged for a pen display – these items are exhibited alongside leather items and accessories.
Founded in 1991, Micri Gold was the first private jewelry store in Romania where brands like Bulgari, Chopard, Damiani, Gianni Lazzaro, Chimento and Dubey&Schalderbrand could be found.
Montblanc has been known for generations as a producer of refined writing instruments. The company started as Simplo Filler Pen in 1906, and was founded by a stationer in Hamburg. In 1911 it became Montblanc. The brand is well known for its logo: the white star which represents the Mont Blanc peak in the Alps. Another sign of recognition for the brand is the number 4,810 engraved on the nib, since 4,810 meters is the height of the Mont Blanc peak.
Principal among the companies' lines is Meisterstuck, followed by the newer collections Boheme, Scenium and Starwalker. Montblanc produces limited series of pens that are launched annually. Among the brand's series are the Annual Series, not in limited number but sold only for one year each; the Donation Pens, Writers Series of which between 15,000 and 30,000 pieces are manufactured; and Patron of the Arts series, with 888 items manufactured. There are also one-off series to commemorate special events. These do not number more than 75 items.
Montblanc is brought to Romania by Cellini. In the Cellini stores, customers can find valuable pens such as a Meisterstuck pen of 18 carat gold or platinum insertions and a manually engraved nib, a Montblanc Solitaire pen with 18 carat gold, a Meisterstuck ball pen and a Montblanc set consisting of a pen, ball pen and mechanical pencil Star Walker Doue.
Otilia Haraga