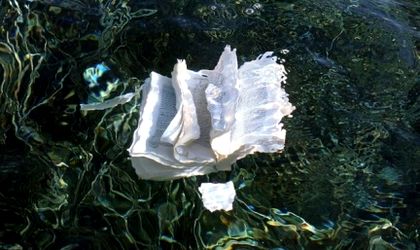 After the success of The Human Synthesis exhibit held in Rome, Romanian artist Ileana Florescu has enriched her portfolio, adding photographs specifically taken for the Romanian public, to be put on display in the Sunken Library exhibit, in Bucharest.   
The Sunken Library (Biblioteca scufundata) displays 180 photographs showcasing a wide array of books sunken into water, among which Ileana Florescu has also selected works of art of the Romanian literature. Books by Mihai Eminescu, Mircea Eliade and Gheorge Leahu are photographed in this manner in the "Disappeared Bucharest" section, the blurred pages and the dark background suggesting the censorship that these creations underwent during communist times.
The name of the Romanian exhibit originates in a description made by Sergio Bertelli in 1966, in the Human Synthesis catalogue, quoting a piece by French composer Claude Debussy, La Cathédrale engloutie.
The exhibit is held in Bucharest, between August 25 and September 17 at Sala Dalles and is organized by the National Museum of Contemporary Art (Muzeul National de Arta Contemporana). In the second half of September, 16 series of three-frame photographs will be exhibited at Biblioteca Centrala Universitara.
Corina Dumitrescu