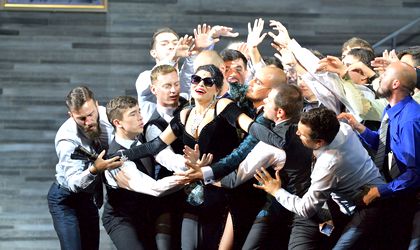 Franz Lehar's The Merry Widow operetta, directed by Andrei Serban, represents an adaptation with dialogues inspired by the Romanian writers Radu Paraschivescu and Andrei Plesu. The performance had its premiere in September, and according to the official press release, the public requested more representations. Currently, the performance can be seen from December 1-4, each night, starting from 19.00.
The version proposed to the public is very original, presenting an adaptation of the real world and the nowadays Romania. The director's vision is very different compared to Andrei Serban's previous The Merry Widow performances.
"While the libretto is about an invented country, lost somewhere in the Balkans, in crisis and in danger of bankruptcy, led by politicians incapable who are also imposters and liars, we found, by a happy accident, that the writings of Radu Paraschivescu and Andrei Plesu ideal material for The Merry Widow to take shape," explains Andrei Serban.
"On one hand, we have nonsense and aberrations which circulates in the public space within all kinds of social groups, including politicians, wives of politicians, businessmen, public servants, athletes, TV personalities. On the other hand, there is the pamphlet, which together make an accurate radiography of the world we live here in Romania. I realised that what I was missing from staging my previous performances was the credibility of the contrast between the love story of the main characters and their environment. (…) I did a very liberal adaptation of well-known realities. Beyond this socio-political, absurd and burlesque buffoonery, the performance develops the main theme of the authentic love," added the director.
Photos courtesy of ONB
Oana Vasiliu