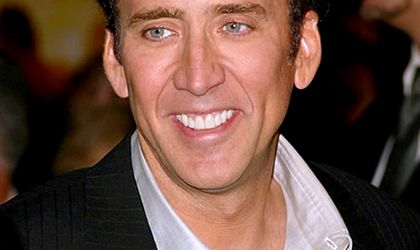 At Ovidiu Rom's Halloween Charity Ball, which took place at Palatul Parlamentului on October 30, over EUR 500,000 were promised to the aid of 1,200 children in need, reports Mediafax newswire. A special guest at the ball was American actor Nicholas Cage, accompanied by his wife and child, as the actor is filming in Romania his most recent project, Ghost Rider 2.
The sums donated at this year's ball varied between EUR 50 and EUR 11,000, writes the newswire. Luxury jewelry and Madonna's shoes were the stars of the auction, both of them being donated back to Ovidiu Rom by the purchasers, E.on and Carrefour Romania.
Leslie Hawke, president of the Ovidiu Rom Association underlined the necessity of such an auction, stating "In a democracy, it is eveyone's responsibility to make sure that all children go to school – not just the government's or the larger companies', but the civil society's, as well – and this is who we are".
Nicholas Cage added that the issue of children with an uncertain future is not only Romanian, "it is an international problem, affecting numerous countries. I would like you think what your beautiful country would look like if these children had the benefit of an education", as the newswire states. 
Ovidiu Rom's mission is to get every poor child in kindergarten and school, as children who start school later than their peers, never catch up academically. Fiecare Copil in Gradinita is a set of integrated measures that is currently making possible quality early education for 1200 severely impoverished children in twenty Romanian communities. Ovidiu Rom raises most of its funds through its annual October fundraising event, the Halloween Charity Ball at Palatul Parlamentului.
Corina Dumitrescu