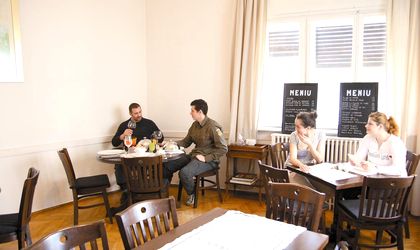 It's a funny name for a restaurant, L'Escargot ('the snail') but then again in 1982 a young chef called Gordon Ramsay opened his first restaurant in London with the equally unimaginative and daft name of L'Aubergine – and look at him now!
We desperately need French chophouses here in the gastronomic desert of Bucharest. Sadly we only have Heritage (struggling with haute cuisine) and the bistro element represented by Paparazzi in Aviatorilor and the bistro in Str Mendelev.
Over the years I have watched eight excellent French restaurants (all with French chefs) go bust. To the more observant of you this is no mystery. After all, the rich Romanians are nouveau riche, gold-plated medallion-men vulgarians who have reverted to eating the dog food they were brought up on as kids. So irrespective of their wealth, they cannot appreciate the subtleties of French cuisine.
Equally guilty are the European expatriates whose ever diminishing presence has reduced them to a community of working-class ignorami such as low paid diplomats and corporate business managers, both of whom read tabloid newspapers in their home countries and do not consider fine food and wine to be a priority in their paltry lives.
So that, my friends, is a microcosm of Romanian 'society'. A society that never was, and one which is so ignorant, I fear will never accept French cuisine en masse.
So what future does the new Escargot bistro have? I hope it has a great one for it complies with the basic elements of a true bistro, namely: it serves high-quality wines to accompany classic provincial French cuisine, all in a low-priced 'no-frills' restaurant, which in the case of Escargot – is a dump! The staff are well versed in the food on offer and in this case they were downright argumentative. Now that is a touch of French reality!
So off we go to Escargot in its easy-to-find location between Dacia and Stefan Cel Mare. The place is nothing to look at, although they have a terrace which will serve them well in the summer. They haven't spent a single leu on the interior which is bare walls with two pictures, bare cheap tables and… nothing else.
But my heart jumped with relief when I saw the menu scratched in chalk on a blackboard. The waitress also jumped when I entered and hurriedly rubbed off the two beef dishes I wanted to order. Well, that is one of two reasons for having a blackboard: the House can instantly change, delete and update the menu, and they can add new dishes daily according to the whim of the chef. Bravo House!
There are only five or six dishes on the blackboard and I wholeheartedly approve of this. A short menu enables the House to concentrate its skills on both its purchasing and its preparation to the benefit of the customer.
So expect to pay the bargain price of RON 18 for either onion soup or Vichyssoise, and main courses such as Cassoulet, Osso Bucco, four cheese ravioli and two different salmon dishes and more at a mere RON 35.
The wines were reassuringly expensive with reds costing between RON 54 and 150 and whites starting at RON 35. This was because the House had chosen well on quality grounds. But if you are mean you can order House wine at RON 18.
Our smiling waitress arrived, but she quickly changed into a little monster when I questioned the price of the wines. She threatened to drag me out to her competition where the same wines were higher priced! And again when I questioned the preparation of Vichyssoise she jumped all over my face and argued with me.
In a similar vein, I asked her if I would get two duck legs in a red wine reduction with their duck confit. She raged that it came as one leg in a white wine reduction. I told the monster this preparation was a break from the traditional norm, and again she stood her ground and argued. Hey people, I was a chef 20 years ago after being formally trained in Europe with all the complexities and sophistication of international cuisine. She was a Romanian waitress. So place your money on who you think was correct.
Off we went to an excellent starter of a filo parcel of ham and melted goat's cheese. Excellent. I asked the monster if the ham was French and she replied it was and what's more, it was a lardon. Sorry monster, a lardon is simply fat.
I was beginning to love this place. Our cassoulet (beans, ham and sausage) was perfectly correct. But our 'four cheese fondu' based on Brie needed improvement. The cheese dip should have flowed and dripped like stringy mozzarella. But it was lumpy because the chef used an egg yoke to bind the cheeses together. Wrong, House. They should have made a simple 'roux' from flour and milk, added the cheese and thinned the mixture with lashings of white wine. But no egg.
The chef is good and I adored our monster. She is the perfect employee – aggressively loyal to the House and she loves her boss and her job. They should double her salary immediately.
I am going back, and so should you.
Michael Barclay
mab.media@dnt.ro