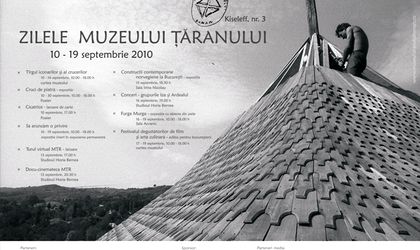 Muzeul Taranului Roman (Romanian Peasant's Museum) celebrates time, under its different forms of celebration, between September 10 and 19. Exhibits, fairs, films, book launches, traditional music and a festival of film and culinary art are part of the ten-day fiesta.
As part of the fair, there will be ten themes. The time for celebration is the first one, taking place between September 10 and 14, between 10 and 6 o'clock. This chapter will basically revolve around the Orthodox celebration of the Day of the Cross, taking place on September 14, and will consist of the presentation of traditional Romanian religious artifacts created by artists from across the country.
The religious trend is followed by The time for recollection, part of which is the exhibit Stone Crosses, continued until September 30, at the Foaier Hall. The time for the trace will consist of a book release – The Scar – on September 10, in the same location. The time for discovery includes the permanent exhibit Let's Have a Look – A Textile Conversation, which will consist of the works on textile fabrics of five Romanian and German artists and will occur all throughout the exhibit.
The time online will focus on the launch of the online tour of the museum, on September 13. The time in 35 millimeters, taking place on the same day, will showcase several films in the Horia Bernea studio. A time for regard and astonishment, an exhibit of Norwegian art and contemporary crafts will be on display starting September 15 and ending on October 17, at Irina Nicolau Hall. A time for craftsmen shows the work of the Gavrila brothers on leather materials between September 16 and 19. A time for sound and joy, a celebration of folk music will take place on September 16, at 19.00. The festival of film and culinary art lovers (September 17 – 19) will show a depiction of some of the best recent Balkan films, accompanied by a selection of farm-grown foods and wines, pertaining to poet Mircea Dinescu.
More information about the event is available at the museum or on the website, http://www.muzeultaranuluiroman.ro.
Corina Dumitrescu