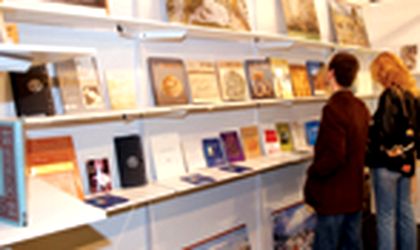 The Coffee and Chocolate Fair takes place on the ground floor of the World Trade Center from March 7-9. The fair will spoil visitors with a wide range of chocolates and coffees. At the same time, it will gather the biggest producers and importers of coffee, chocolate, biscuits and wafers, liquors with coffee and chocolate flavors and coffee machines.
The Francophone Film Festival, on its sixth edition, which will take place from March 7-14 at Cinema Elvira Popescu (French Institute) will reunite nearly 20 cinema productions from countries such as Romania, France, Belgium, Switzerland, Canada, Slovenia, Poland, Tunisia and Vietnam.
The sixth Kilipirim Fair, where you can browse through books, music and movies, which are all selling practically for peanuts, will again take place this year at Sala Dalles. The timeframe: March 11- 16. Expect crowds because the fair has already built up a reputation.
Lovers of horse power will be able to satisfy their passion for powerful engines by attending the 4Tuning Days, the third edition of the Tuning, Styling, Racing & Car-Audio exhibition, which will take place at Romexpo Center in Bucharest between March 15-16. On the same days, the most important national event for motorcycle lovers, the Salon of Motorcycles, Accessories and Equipment, will take place at the same venue. With the same ticket, those interested can attend both events.
"Stop cancer!," a photo exhibition by Cristian Movila, will be opened at the Pogany ART Gallery of the National Theater on March 20, at 19.00. The dress code should be formal and accessorized with yellow, the symbolic color of childhood cancer. This event is organized by the Scheherazade Foundation.
The concert of German Berlin-based DJ/producer collective Jazzanova, will take place on March 21 at Fabrica Club in Bucharest. The group is one of the foremost proponents of the nu-jazz, chillout and jazz house styles of music and has also experimented with Latin Jazz.
Funk, soul and jazz band Quantic Soul Orchestra will be performing in Bucharest on March 25 at the Radio Hall. The Quantic Soul Orchestra is a side project of Will Holland which focuses on reviving a dusty funk and jazz sound. So far, the Quantic Soul Orchestra have released three albums "Stampede", "Pushin' On" and "Tropidelico."
Transcities Berlin – Bucharest, an event which makes the distance between the two European capitals seem smaller through music (concerts), art and film screenings takes place at Sala Dalles between March 27 and April 13.