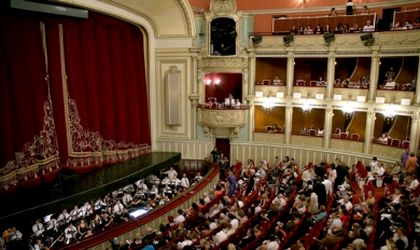 This year, the European Opera Days will be celebrated by all the Continent's major opera theaters on May 7th and 8th. The National Opera House in Bucharest will participate in this celebration with a series of special events, open to opera and generally art fans of all ages. To facilitate access to a large number of spectators at the Opera, all events included in this program are designed in terms of "open doors", meaning free access availability.
On Saturday, May 7th, starting at 11.00 a.m., the young spectators are invited in the NOB Yellow Foyer to the latest premiere of the Ballet and Opera Experimental Studio "Ludovic Spiess": "Harap-Alb". Ion Creanga's famous story will come to life as a children's ballet, directed and choreographed by Maria Popa. At 7:00 p.m., opera fans are expected to "Alcina", a co-production of the National Music University in Bucharest and the National University of Arts in Bucharest. Georg Friedrich Handel's opera was composed on a libretto inspired by the epic poem Orlando Furioso of the Italian Renaissance poet Ludovico Ariosto.
On Sunday, May 8th, it is the young audience's turn to pass the threshold of the National Opera House in Bucharest. At 11.00 a.m., the NOB Yellow Foyer will host an interactive presentation on Why we love opera? – an event conceived for the secondary school children. The meeting will be moderated by NOB conductor Vlad Conta ONB, assisted by NOB mezzo-soprano Oana Andra. In parallel with this event, a creative workshop for younger participants will take place, in which children are going to practice (drawing, collage etc.) on the topic "On the Opera Stage". The workshop will be coordinated by Mona Silvia-Timofte, a collaborator of NOB and of the National Art Museum of Romania.
The access to the interactive presentation in the Yellow Foyer is free within the limit of available seats. The creation workshop, due to limited space, will be attended by a single class of children.
At 7:00 p.m., the event which will close the European Opera Days is the concerto Homage to Maria Callas. The concerto will take place in the presence of Ms Giovanna Lomazzi, assistant to Maria Callas.
More information on this address.
Corina Dumitrescu