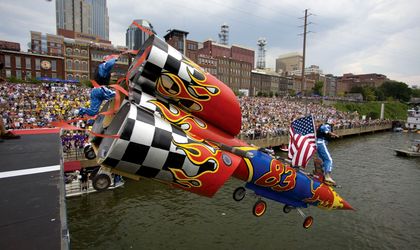 Unidentified flying objects (and we're not talking alien ships) will fill the Bucharest sky before landing in the Dambovita River on September 19 at Red Bull Flugtag 2010. Participants who manage to defy gravity even briefly will be generously rewarded. Anyone willing to work laboriously on a flying object of their choice is advised to submit their projects by June 4, using an application kit from Red Bull. Flying masterpieces must not be heavier than 150 kilograms, nor have a wing span of more than 8 meters.
Those who manage to have their project selected (the lucky ones are set to be announced by June 15), move onto the second stage: construction of the flying machine. The deadline for that is September 18.
The 'flight,' or something that will resemble a flight, will take place on September 19, the day of the competition. The overall winner will get a weekend in Salzburg, which includes a visit to the famous museum of aviation, Hangar 7, and a flight with an old B25plane. The second prize is a trip to the 2011 Red Bull Air Race Portugal. Third position wins a trip to Budapest for the Red Bull Air Race 2011. Set your sights high!
Otilia Haraga