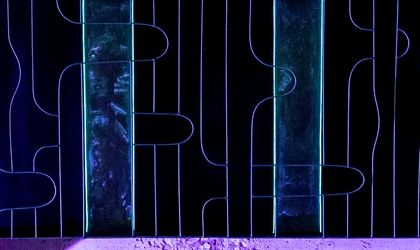 Curated by acclaimed local and international experts, the annual Art Safari is one of Eastern Europe's largest and most exciting arts events. Its promise is to showcase new and historical Romanian masterpieces and international art to over 125,000 visitors through the Central Pavilion, Museum Pavilion, International Program, and educational programs. BR found out what visitors can expect this year.
This September, the Art Safari Temporary Museum will host 10,000 square feet of art in a historical building dating back to 1906. Located in the heart of the city, the Oscar Maugsch BCR Palace will welcome visitors over September 27-October 6. The event continues the introduction of heritage buildings into the urban circuit, which has a long history at Art Safari: Ciclop parking lots, Dacia-Romania Palace, and Kretzulescu Galleries.
One of the most important events during this year's Art Safari is the Nicolae Tonitza exhibition, which will bring together works from Romania and abroad for the largest exhibition devoted to the Romanian painter in the last half century. Museum Pavilion "Tonitza and the childhood genius" will put more than 200 works on display during Art Safari 2019. The exhibition will focus on one of the painter's favorite themes: portraits of children. "In order to offer a broader horizon than the immediate visual arts, the exhibition explores the issues of child and childhood from a multidisciplinary perspective – historical, sociological, pedagogical and anthropological. Paintings, sculpture, graphics as well as items of clothing worn by rural and urban children, toys, school objects, all of the interwar period will be on display," says Zoltán Soós, curator of the Museum Pavilion.
Art Safari 2019 will also feature an anthological and analytical look at the dynamics of Romanian sculpture between 1800 and 2019. "Repvblica. About shadows in sculpture", curated by Călin Dan, will present for the first time the most significant names in Romanian sculpture, exceptional works from major private collections in Europe, as well as collections from galleries in Romania. Set in a special architectural framework, designed to highlight the individual qualities of each work by ingeniously using the traps and filters of space in BCR's former headquarters, the exhibition will bring together, in a trans-generational dialogue, the most significant names in the field, and personalities who marked the development of modern Romanian sculpture. The sculpture selection is accompanied by installations, decorative art and pieces by Dimitrie Paciurea, Hans Mattis-Teutsch, Irina Codreanu, Cornel Medrea, Frederic Storck, Constantin Baraschi, Oscar Han, Milita Petrascu, Mac Constantinescu, Ion Irimescu, Zoe Baicoianu, Ion Jalea and many others.
Supercontemporary Pavilion "Young Blood. The Art of Your Times", curated by Mihai Zgondoiu, will introduce to the public the new wave of Romanian artists and art of our time. The project radiographs the urban artistic movement in Romania, gradually assimilated into the periphery of contemporary art. Appropriately, the exhibition will include interactive art installations, video-mapping, site-specific interventions, performance art, media art, object/sculpture, and experimental print. These hybrid practices illustrate the creative way in which younger artists communicate through art.
Meanwhile, the Art Safari Kids 2019 program, occupying a larger area than in previous years, will include distinct age-appropriate zones. Children can take part in art workshops on canvas painting, sculpture courses, illustration, and comic book design.
Some 50,000 visitors are projected to attend the expo, with 4,000 children expected to take part in Art Safari Kids. Ticket prices start from RON 25.