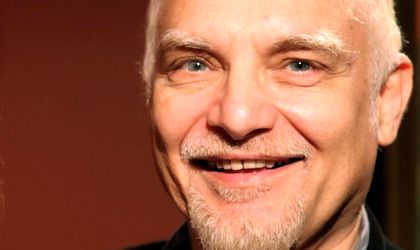 Virgil Mihaiu (in picture), a writer, jazz critic, diplomat and current director of the Romanian Cultural Institute Lisbon, has been featured in the March – April 2011 issue of the World Literature Today publication. The magazine publishes some of his jazz-poetry, translated into English by Adam J. Sorkin.
The electronic version of the magazine also includes three fragments of some of Mihaiu's rare jazz-poetry performances (you can access it by clicking here and here). Am excerpt from Mihaiu's Jazzographics project is also available, featuring Mihaiu's poetry and Alan Tomlinson's trombone performance (member of the London Jazz Composers' Orchestra), recorded during an interview granted to BBC Scotland, after a performance in Edinburgh / Winter of 1994.
On his passion for jazz, Mihaiu states as follows: "My introduction to jazz happened gradually. Fortunately, this process is still going on today. From the very beginning, such music sounded to me like a metaphor for liberty, but its "deciphering" would take a lifetime."
Virgil Mihaiu (b. 1951, Cluj, Romania) is a writer, jazz critic, diplomat, jazz aesthetics professor, polyglot, current director of the Romanian Cultural Institute Lisbon, and minister counselor with the Romanian Embassy of Portugal. He is a member of the Down Beat, Steaua, and Jazz Forum editorial boards. Author of fifteen books (poetry, essays, monographs), Mihaiu is also a jazz-poetry performer and author of radio and TV programs, art films, and music collages for theater/dance performances. He has won prizes and awards in Romania, Poland, and Portugal.
Corina Dumitrescu