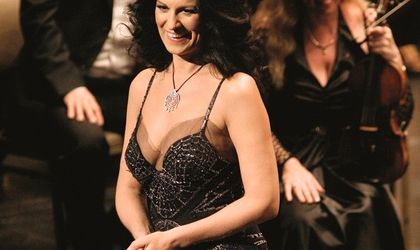 Romanian soprano Angela Gheorghiu has received mixed reviews from the UK press for her performance in the new Tosca at  the London Royal Opera. Angela Cheorghiu was one of the stars brought in for the final performances, together with Jonas Kaufmann and Bryn Terfel.
Guardian columnist Andrew Clements slammed Angela Gheorghiu's performance: "Gheorghiu was anything but compelling, her tone parched, her acting semaphoric. There was no convincing raison d'etre for her Vissi d'Arte, and so no emotional core for her performance". In stark contrast to this review, Fiona Maddocks from the same publication praises Angela Gheorghiu's title role: "she has such natural voice ease that it must seem to her enough just to be there, and it's true, she can still outdo most of her rivals" and goes on saying that "her encounters with Cavardossi had a discernible chemistry, which reminded the public why the Romanian diva draws the crowds".
Edward Seckerson, from the Independent publication, considers Gheorghiu "a born diva" and praises her performance: "playful and light on the vocal chords in Act One, scornful in Act Two and liberated in Act Three with stonking high Cs and bags of attitude". The columnist continues his review, saying that although Angela Gheorghiu doesn't "chest" like Callas, she colours her lower registers in true diva fashion.
Although the first review was unfavorable, the cast let by three of the greatest singers in the world made the floorboards tremble from the crowd's applause, making Tosca the play where Angela Gheorghiu proved once again that she is a true musical diva with a flawless performance, capable of impressing opera music lovers around the world.
Ovidiu Posirca