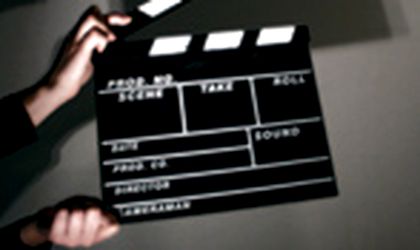 The eighth edition of the Transylvania Film Festival showcases Oscar movies, pictures that received accolades at prestigious film festivals, documentaries, musicals and movies that have shocked audiences worldwide. Among them are documentary Man on Wire, winner in the Best Documentary category at the Academy Awards. The movie, produced by Discovery Channel and directed by James Marsh, retraces the feat of Frenchman Philippe Petit who, in 1974, managed to cover the distance between the two twin World Trade Center towers by walking a steel wire.
Another highlight of TIFF this year is Hunger, winner of the Camera d'Or prize at the International Cannes Festival last year. The debut feature-length movie from director Steve McQueen is about Bobby Sands, a member of the Northern Irish republican army who went on hunger strike to get members of the IRA similar rights to those of prisoners of war. Another headliner is Repo! The Genetic Opera, a musical thriller with Alex Vega, Paul Sorvino, Sarah Brightman and Paris Hilton, directed by Darren Lynn Bousman, who also directed three movies from the famous Saw series.
Choke, directed by Clark Gregg and based on a novel written by Chuck Palahniuk, who also authored the famous book Fight Club, is a dark comedy about sex addict Victor Mancini who, in order to keep his sick mother in a very expensive Alzheimer's clinic uses a less conventional method: he pretends he is choking in luxury restaurants.
This is only a short preview of the productions that will run on the screens of Cluj cinemas during this year's edition of TIFF, the first festival of feature- length movies in Romania. The festival started in 2002 and soon became one of the most important cinematic events in the country. TIFF has welcomed numerous actors and directors from abroad such as Julie Delpy, Michael Radford, Annie Girardot, Udo Kier, Vanessa Redgrave, Franco Nero and Nicolas Roeg. It is traditionally the event when the top local productions have their first public showing.
During the opening weekend, moviegoers who have a car will be invited to drive 30 kilometers from Cluj, along the already built segment of the Transylvania Highway, where they can attend a drive-in screening of the movie JCVD by director Mabrouk El Mechri. Starring Belgian action hero Jean- Claude van Damme who plays himself (in a role that required a large amount of irony and humor and less action this time around) will be viewed by the public from their own cars. Before "taking their seats" in this unique movie theater, viewers are invited at 8 pm on the Transylvania Highway, where they will be awaited by several minibuses which will drive them to witness the work underway on the new highway.
It has become a tradition in previous years at TIFF to have a guest filmmaker from abroad who has made a lasting impression on the movie industry. In line with this tradition, the guest artist of the 2009 edition is Israeli director and producer Menahem Golan, whose production Operation Thunderbolt was nominated in the Best Foreign Movie category at the Academy Awards. Golan, one of the most prolific artists of contemporary cinema, will be in Cluj on May 31, the day he celebrates his 80th birthday. The producer-director is the creator of series such as Captain America, Delta Force and Superman. He has brought his contribution to the creation of over 250 movies, having the unique talent to exploit the public's appetite for action and for the rush of adrenaline by creating action movies that transformed actors such as Sylvester Stallone, Chuck Norris, Jean-Claude Van Damme and Charles Bronson into icons of contemporary action cinema. "I produce movies, I love them, sometimes I do an excellent job. I don't consider myself another Ingmar Bergman. I do not make movies 'with a message.' I make them for the public who does not get bored at the cinema, who laughs at a comedy and cries at a drama. I still hope this is the future…" said Golan.
Last but not least, the festival honors Romanian actors whose lifetime activity has played a substantial role in the development of local cinema industry. Actor Mircea Albulescu will receive an Excellence Prize for a lifetime of roles in cinema and theater. Albulescu will presented with the award during the Closing Gala on June 6. Previous years honored other Romanian actors such as Radu Beligan in 2008, Ioana Bulca in 2007 and Stefan Iordache in 2006. Albulescu's award will be complemented by a screening of the 1982 production At the End of the Line by director Dinu Tanase.
After Cluj, Under the catchy logo "A totally different experience for the eye," Fest'Asia will premiere the feature-length movies from the series Gin gway / The Eye, a horror trilogy from the brothers Oxide and Danny Pang, produced in Hong Kong and Canada. This series, made up of three feature-length movies – Gin Gway (2002), Gin Gway 2 (2004) and Gin Gway 10 (2005) – was much lauded with awards at various film events such as The Week of the Fantasy Film in Malaga, Fantasy Film Festivals in Uppsala and Koln, and had special projections in Cannes, Rotterdam and Toronto.When it comes to horror movies, it is a well-known fact: nobody does it better than the Asians.
All in all, the festival will screen under its umbrella over 40 movies from Asian countries with a tradition in movie- making such as South Korea, Japan, China, Malaysia, Thailand, and even North Korea.
There will be four showcase sections during the event: Panorama, presenting recent feature-length movies, Trilogy (screening the three movies in The Eye series), Anim'Asia (with Asian animation movies) and Short'Asia (showcasing over 20 recent short films).
"Asian movies have a very well-defined public in Bucharest and Romania. For this public, sufficiently numerous and very faithful, it is worth having Fest'Asia – a unique festival in Central and Eastern Europe – that should maintain a permanent bond between Asian cinema and its spectators in this part of the world," said Vlad Ilicevici, executive manager of Fest'Asia.
The festival is organized by the Estenest Cultural Association which counted on the support of Ogilvy Group. Dani Macarie, group creative director at Ogilvy, confessed that in 2004 he attended Fest' Asia "without knowing it was Fest'Asia. I saw two movies and I still did not find out what was the name of the festival. This year, we have promised our partners from Estenest that Fest'Asia will become a name," he said.
By Otilia Haraga