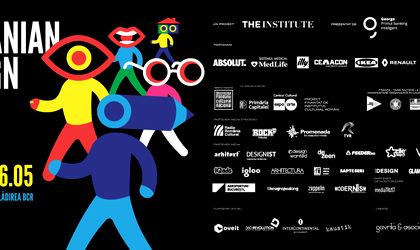 Romanian Design Week, multi-disciplinary event dedicated to the local creative industries and that had reached the seventh edition, takes place in Bucharest during May 17-26. This year the festival proposes three circuits that integrate over 30 entities from the creative communities and hubs – Industria Bumbacului, Creative Tribe and Incotroceni.
By Romanita Oprea
To those its added the central exhibition, a series of capsule-exhibitions signed by local creatives and organizations, but also from the Republic of Moldova and France, a concept store dedicated to the Romanian design and the second edition of RDW Awards that encourage the excellence in the creative industries and promotes the Romanian designers.
The central RDW 2019 exhibition proposes the exploration for the first time of the BCR building in Universitatii Square and comprises of over 200 of one of the best projects created in the last year by designers, graphic designers and Romanian architects. The exhibition, the most complex so far, reunites five categories – Architecture, Product Design, Graphic Design, Fashion and Multidisciplinary. Moreover, it is part of the Museums' Night.
The visitors will be able to discover a variety of products from the first bicycle from laminated bamboo in the world, a digital dictionary for the people passionate by advertising and online, a book sign that can adapt the light in the reader's room and fashion pieces that claim the society's need for promoting equal rights and the mutual respect between sexes, up to houses that were abandoned and re-brought to life and reintegrated in the communities' life and interactive installations.
The RDW  central space includes also a series of capsule-exhibitions signed by creatives and local or international organizations:  Lille Metropole 2020-World Design Capital, part of the program Romania-France Season; The Art University Bucharest and Marcel Klamer;  Igloo – Habitat Association and Architecture;  Timisoara's West University – The Art and Design Faculty; Zeppelin; Designforkidz; Miloš Jovanović; Moldovan Design Week; Smart Design Challenge, as well as exhibitions, installations or branded content created in partnership with Absolut, Brico Depôt, Illy, IKEA, MedLife and Renault.
The exhibition design is signed this year as well by Attila Kim Architects and proposes a complex road that follows the building's personality and characteristics, but, at the same time, surprises the visitor through the elements used in decorating, as well as through the content's integrity. The installation inside the building are created with the help of Cemacon.
The exhibition route has added to itself a Concept Store, developed in partnership with  George, the first smart banking, that will be open to all the visitors during the 10 days of festival and will present a selection of design products carefully curated -from ceramics objects to illuminating bodies, books, accessories or jewelry.
Moreover, this year Romanian Design Week presents the RDW Talks, supported by Medlife, a series of conferences of design themes, during which the passion for the field is dissected down to the finest details.