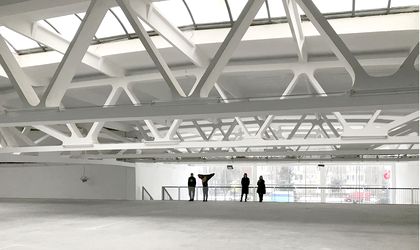 Small galleries, impressive old industrial spaces, some Communist history made public and even a completely new building marked 2019 in terms of new cultural spaces. It is definitely still not enough to cover the emerging local cultural industries, but Rome wasn't built in a day, either. Where should you check in?
The Communist approach
While not necessarily related to the celebration of 30 years since the fall of the Communist regime, a few chapters of Romania's recent history have been opened to the public over the past year. Fortul 13 Jilava (near Bucharest) – an annex to the Jilava jail – is going to be turned into a museum. The last time this part of the jail operated was to hold protesters during the December 1989 events, but the fort was best known for the political imprisonments of the Communist period. Recently, a lot of civic initiatives have provided guided visits to this place, telling people about the atrocities committed by the regime.
The Museum of Living in Communism (Brasov) is a museum-hotel, a mix that allows visitors to experience the lifestyles of the Ceausescu era, through magazines, books and fried Romanian banger (parizer) to furniture and other decorative symbols from that period. You get access to films about communism, documentaries about the 1989 Revolution or the 1987 workers' revolution in Brasov, local newspapers from the '70s and '80s, magazines and almanacs. Bookings for this museum are available on the AirBnb platform.
80east (Bucharest) is an NGO initiative designed to present glimpses of recent Romanian history, focusing on living and working in the '80s. A project for civic education and for the conservation of recent memory.
Future investment
Kunsthalle Bega (Timisoara) is an alternative space facilitating the progression from classical institutions to experimental ones; there is a need for places that embody the qualities of a museum and the experimentalism of alternative spaces. The founders say that the ideal solution for a city full of art is the "kunsthalle", a place that takes into consideration the values of a museum but has the ability to function freely. And they seem to have found the best place in this old industrial building.
CREIC or the Regional Center for Excellence in Creative Industries (Cluj-Napoca) is a one-of-a-kind building in this cultural space: it is brand new and can be used by anyone in the creative industries, offering spaces for both freelancers and companies in this sector.
Bucharest's creative new spots
Cazul 101 Gallery has moved to another artist-run space, a garage of approximately 20 sqm converted into an exhibition space for site-specific installations and works. The team thus offers an environment that, although constrained by space, encourages artists, giving them total freedom of expression.
The Hive is a new location hosting three creative workshops on different design areas: glass (Spectrum, which makes you discover an innovative approach to stained glass, fashion (ATELIER 42, which serves as the primary creative outlet of a tailoring workshop, offering an exquisite collection which aims to satisfy the need for uniqueness) and contemporary jewellery (JULS, a conceptual jewellery brand defining a minimalist line, primarily using geometric shapes).
Mercato Comunale, in a new space, where this versatile urban pop-up garden offers co-working spots, superstar food-trucks, a farmers' market, and one of the largest selections of craft beers. Best to visit during the summer, but a perfect place to work in winter time as well.