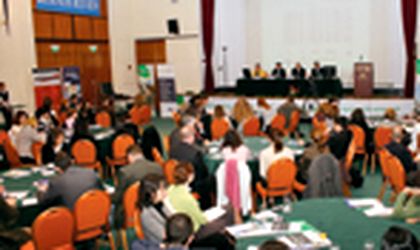 At a smaller level, on an increasingly competitive market, retailers need to become more efficient to keep up with competition or go for solutions like e-commerce. These were among the main findings shared by the speakers at the first edition of RetailPro, the retail forum organized by Business Media Group. Business Media Group is the publisher of Business Review.
The Baneasa project in north Bucharest is expanding through several retail additions to the office and residential areas, along with a luxury retail project, while the project's mall, Baneasa Shopping City, is close to opening, said Ali Ergun Ergen, retail development manager with Baneasa Developments.
While Bucharest still has room for new and sustainable retail developments, in other cities in the country the retail market is getting crowded, according to Monica Barbu, head of retail department with Colliers in Romania.
For developers, facility management and technology management is becoming more important as competition increases, according to Tudor Trita, CEO of Archibus Solution Centers Romania. IT-managed budget and cash flows should also become handier for retailers in their search for effectiveness.
The window of opportunity in retail has already closed for Romania, so it is hard for new players to make a market entry, according to Linda Vasilescu, senior consultant with AT Kearney in Romania. Existing companies should try to access new customers through organic growth, not through geographical expansion, while increasing the loyalty of existing customers. The shift to new sale formats is also advisable for those who want to survive on the market, said Vasilescu.
The retail market is not closing, it is only changing, believes Madalin Matica, director of DotCommerce. The e-commerce market is only in its early days and now looks more like the Wild West, as no one plays according to sound principles, but by seeing and doing, believes Matica. With a development rate of one online shop per day in Romania, the online business is estimated to reach EUR 100 million in turnover in 2007, according to Marius Ghenea, president of PCfun.ro. According to the businessman, the online market could reach EUR 1 billion by 2010 but from the currently existing 1,000 online shops, only one percent will be able to build a brand, according to Ghenea.
Companies are starting to invest in ways to keep logistics at as low costs as possible. RTC has put EUR 300,000 into an automated system for its Proffice division, and another EUR 400,000 in a similar system for its book deposit Depozitul de Carte, according to Lucian Popa, president of the logistics division at RTC. While logistics is in place, sometimes retailers suffer from losses due to product theft, be it external or internal. Analysts have found that internal theft, by the company's own employees, is the most common, said Simona Dinca, general manager of UTI Retail Solutions.
Rounding up, "the consumer is becoming immune to messages as the media becomes fragmented and it is increasingly difficult to establish brand-awareness without the proper support of marketing tools," said Erika Szabo, in charge of executive education programs at CEU Business School. Szabo discussed the topic of consumer profiling according to forecourts – open shopping areas. The statistics show that 62 percent of consumers are women, 66 percent of shoppers are single with ages ranging from 35 to 44 years and no children, according to the GD Consumer Unit 2006 study.
Corina Saceanu and Magda Purice