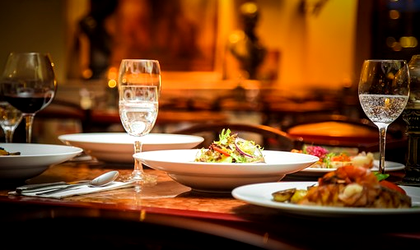 Anyone who has ever eaten at a Michelin-starred restaurant knows that magic happens in those kitchens. The best chefs use the finest ingredients to create dishes that are to die for. But as well as top talent and fantastic produce, the most successful restaurants need the latest equipment to ensure that everything from cooking mussels to paying suppliers is done without a hitch. The right kitchen equipment can be hard to identify as there is so much available on the market.
To help improve every area of your restaurant, here is the top equipment that even world-renowned establishments use.
1. Digital Ordering Systems
The days of servers writing customers' orders down on paper notebooks are coming to an end. This antiquated system often results in mistakes or misunderstandings between servers and chefs due to bad handwriting or missed orders. These days, a quality POS system is an absolute must-have. These can be purchased from various online stores for restaurant equipment and will help to avoid ordering errors and speed up the whole process. Orders are transmitted directly to the kitchen so that the chefs can get started on the cooking straight away.
2. Multi Hob Burners
Unlike cooking at home, restaurant chefs need to make multiple dishes at the same time for different customers and tables. A multi-hob burner is an absolute must-have from the smallest family restaurant to the biggest kitchens in popular chain restaurants in order to get the food out quickly and properly cooked. Michelin star restaurants pay huge money for top-of-the-line burners but the difference can be tasted in every bite. Usually, the head chef or the most experienced cook will be in charge of the main burner while other cooks are working on different elements of dishes at their various kitchen stations.
3. Water Baths
Using a water bath is a relatively new cooking technique but it has already made a huge impact on the industry, particularly in high-end restaurants. Water baths are used in sous vide cooking during which ingredients are vacuum packed and then cooked at a precise temperature. This is not possible with any other cooking technique so the chef has ultimate control over their food. While some traditional chefs are of the opinion that this is more science than cooking, many Michelin-starred establishments use water baths extensively now.
Find high-quality multi-burners that fit various kitchen stations at this restaurant supply depot today.
4. Industrial Standard Ovens
A lot of top-level restaurant equipment, even in world-renowned establishments, is just the same equipment that we all use for home cooking but better quality. All restaurants have multiple industrial standard ovens so that all of their dishes can be cooked to absolute perfection. Professional chefs hate using electric cooking equipment so all of the ovens and hob burners are usually gas-powered in restaurant kitchens. This gives the chefs more control over cooking temperatures. 
5. Oven-Safe Pans
One reason why it is often impossible to get your food to taste as it does in a restaurant is that you don't have the right pans. For meat, in particular, it is very important to use an oven-safe pan. This enables chefs to sear meat in the pan and then transfer the entire pan to the oven to finish the meat in its juices. Many home cooks have pans with plastic handles so they can't go in the oven. Cooking first in a pan and then in the oven means that food can get a beautiful color and flavor on the outside and then cooked thoroughly on the inside and left to rest. 
6. A Heated Gantry
One of the golden rules of restaurant service is that everyone at a table gets their food at the same time. This means that they can all enjoy their meals together and no one is left waiting. Every restaurant kitchen needs a heated gantry for food to stay warm while other dishes for the same table are being finished. This enables the chefs to make sure that the whole order is complete before it is sent to the table. There is a fine line which all chefs must walk, however, because if food is left too long on the gantry it can dry out or wither.
For really top-notch food and service, every restaurant needs top-notch equipment. From the right cooking apparatus in the kitchen to the best software solutions, even the best restaurants recognize the need for technology. Try introducing some of these crucial pieces of equipment to your restaurant and you will be able to improve in every area of service.