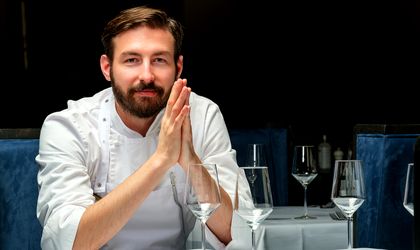 With fast-growing gastronomic expectations in Bucharest and further customer need to receive a multidimensional dining experience, The Marmorosch Bucharest, Autograph Collection Hotel announces the official opening of Fine Dining in Blank Restaurant on November 16 and the appointment of Flaviu Mureșan as the new Head Chef.
Both hotel guests, as well as visitors will have the opportunity to enjoy French and International Haute Cuisine in a place brought to the level of art by its architecture and history.
"In line with our development strategy and positioning as a premium hotel, our main goal in terms of cuisine, is to become the best Fine Dining experience in Bucharest. With this focus, we will continue to invest all the necessary, time, money and raise the best team of people able to meet, surpass and even anticipate our guests' needs in terms of cuisine reality. The international experience, the creativity and progression brought by Flaviu will allow us to lead the gastronomic experience in Bucharest. His vision and inspiration are what we looked for until now. He is the perfect Head Chef, able to fulfil and complete our premium hospitality story.", said Gerhard Erasmus, CEO, Apex Alliance Hotel Management.
With Michelin restaurant experience gained in Berlin, and further local and international gastronomic roles in reputed restaurants (e.g., JW Marriott Venice Resort & Spa on the Venetian Island "Isola delle Rose"), Flaviu Mureșan promises a storytelling gastronomic concept and a new cuisine approach.
"The Marmorosch Bucharest, Autograph Collection, by its new restaurant, represents the new age of culinary and fine dining experience. My goal is finding uniqueness and raising the level of the restaurant to unprecedented heights in Bucharest. Our menu will be inspired by nature and the seasons' most emblematic flavours and colours. Nonetheless, the hotel's arts and history, values and vision will further inspire the story behind the menus.", said Flaviu Mureșan, Head Chef, the Blank Restaurant.
With elements from the French and international cuisine, Flaviu has already developed the tasting menu for Blank Restaurant.
The menu concept, "Forest meets the Sea" is built around seasonal fruits and vegetables only, meat and seafood, by using the ingredients in their entirety. Thus, people are warned about the importance of sustainability and food waste.
The restaurant will have three main menus based on resources harvested from the forest and the sea, with one exclusively vegan.