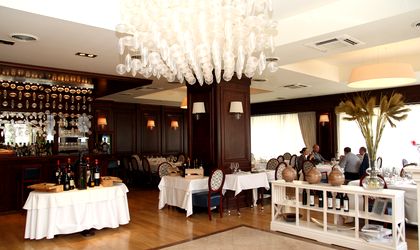 With its interior and ambiance both excellent, the Novi Aquarium restaurant is aiming high.
Up we pulled outside Novi Aquarium on Calea Floreasca, the new incarnation of the long-standing Aquarium, an Italian eatery near Piata Galati beloved of footballers and other fashionable types. Parked out front were three high-end cars, any one of which alone probably cost more than our apartment. Behind them a vast dining room flanked by posh terrace complete with statues. This place says "money".
Debbie Stowe
Footballers, the super-rich and their entourages are not known for their sophistication and refinement, so the cautious diner could be forgiven for expecting the interior to be a ghastly fusion of try-hard trendy minimalism, style-over-comfort furniture and blaring plasma TV screens.
What a pleasant surprise. Novi Aquarium's décor is a masterclass in traditional good taste and elegance. Imagine you're in the waiting room of an old-school law firm's office in Manhattan, about to consult an expensive attorney, and you'll get the idea: spacious, deep wooden panels, leather banquette type seating, the odd stylish lighting feature… the whole place exudes an assured and relaxed stylistic hand and whoever is responsible should be complimented. I cannot think of many other Bucharest restaurants that look better.
Service is professional, in keeping with the overall look of the place, and our waiter was confident with his recommendations, which tended to avoid the costliest items – and in line with its aspirations prices can be fairly high here. Starters range from approximately RON 30 to RON 80, pastas and risottos cluster around RON 50 to RON 60 (RON 150 for a lobster bavette), fish dishes are largely between RON 50 and RON 90 and steak between RON 70 and RON 120.
Fish features predominantly throughout the menu (available on the restaurant website although in a slightly different – presumably older – version from what we were presented with). This was refreshing in a town that sometimes seems to consider anything piscatorial to be a poor relation to meat, or to overcook it into oblivion.
Tagliatelle meravigli (RON 59), seafood pasta, was enjoyable, though would have benefitted aesthetically from the addition of a few large prawns atop and more watchful boiling (some tagliatelle strands had clumped). No freshly grated Parmesan cheese was offered, and though this omission was in line with Italian culinary orthodoxy, I would have liked the choice, philistine that I am. Fillet with peppercorn sauce (RON 69), cooked to specification, was with local beef. Vichyssoise, a thick leek and potato soup, came with an inviting truffle twist.
There were nice touches. Parmigiana di melanzane, a Southern Italian baked eggplant dish, came in mini form as a complimentary appetizer, bookended by limoncello. There was also the odd "Romanian" intrusion. A green salad came doused in vinegar (and not balsamic) in the local style – aside from the slightest extra virgin olive oil, drizzling should be the diner's prerogative.
And I was sorry to see the insidious "cover charge" stipulated on the menu, in this case RON 8 per diner. This is a cheap way of squeezing more money out of customers and has no place in the classy eatery as Novi Aquarium aspires to be. The small sum the house gains in cash is nothing aside what it loses in customer goodwill through this practice. If items are offered on the house they should be on the house, not clawed back in enforced charges.
With its interior and ambience both excellent, Novi Aquarium is clearly aiming high. Some fine-tuning of the menu could certainly put it in the top tier of Bucharest restaurants.
Novi Aquarium, 111-113 Calea Floreasca, 031 405 0597