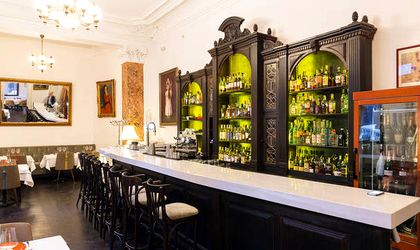 Le Manoir group, headed by Cristian Preotu, has announced the merger of restaurants Relais & Châteaux Le Bistrot Français and Bistro Ateneu in Bucharest. The new venue created after the merger of the two properties will operate in the Galleron building, which in the last two years has hosted Relais & Châteaux Le Bistrot Français, will bear the name Bistro Ateneu and will continue to be a member of the Relais & Châteaux network. 
The restaurant's kitchen will be managed by Alexandru Dumitru, named Chef of the Year in June 2019 by Gault & Millau Romania, and the team will include professionals from both venues. The Le Manoir group is thus interrupting its collaboration with French consultant Sebastien Gravé and chief coordinator Sorin Miftode.
Catalin Grancea, Maître de Maison Relais & Châteaux Le Bistrot Français since 2015, and Octavian Gruianu, chief sommelier of the same premises, will keep their roles within the new project.
"We enter this stage together with a team united by a common vision: to transform the experience we offer to our guests into a memorable one, where one can feel the authenticity, the local spirit, the passion for everything that is good and beautiful, as well as the involvement of each of us. Therefore, investing in talent remains a priority for us, because we need the best professionals who can understand and assimilate our values ​​and those of the Relais & Châteaux association," says Cristian Preotu, the owner of Le Manoir.
The change is part of Le Manoir group's business plan, which has aimed, since its entry on the HoReCa market, the development of a strong establishment, which will become one of the most prestigious properties.
"From the beginning, since 2014, I have worked and evolved consistently. We have built a strong team of passionate professionals – Maître d's, waiters, sommeliers, chefs – in whose education we have invested continuously. We selected the ideal property, the Galleron house, whose story aligns with our values, and we arranged it in a warm, elegant way, to represent us, enriching it with an art collection from the most appreciated Romanian classical painters. We have also created an impressive winery, which brought us 6 Wine Spectator awards, of which 3 Best Of Awards of Excellence, and which now has over 900 wine labels from around the world, we have developed relationships and partnerships with some of the more respected producers in the world and we put Romania on the Relais & Châteaux map. Continuing on this red thread, this year, we purchased a mansion in Balotesti, with a 17,000 sqm garden, in which we grow our own fruits, vegetables and aromatic plants. From my point of view, this will completely change the gastronomic philosophy of our restaurant, because it will take us to a farm-to-table concept, where we have much more control over the raw ingredients. Putting all these elements together and identifying a chef like Alexandru Dumitru, who is extremely talented and organized and actively contributes to this new culinary trend – modern Romanian cuisine -, we thought it was time to move on to the next level, to unite the most our strengths and bring them together in a major project, which will make its mark on Romanian gastronomy, contributing to its modernization and popularity," says Cristian Preotu, owner of the Le Manoir group.
Relais & Châteaux Bistro Ateneu opened its doors in the new formula on August 19, when it greeted its guests with a new autumn menu, prepared entirely in the restaurant's kitchen using ingredients obtained from responsible sources, following chef Alexandru Dumitru's principles.
"For me, delivering a farm-to-table menu in a 50-seat restaurant means entering a new stage, where the entire producer – chef – guest system changes. Doubling the number of guests requires even more attention paid to suppliers, a growth of the team and an extremely efficient organization. Modern Romanian cuisine is gaining ground, it is getting in shape, and Bistro Ateneu aims to be one of the active promoters of this trend," stated Alexandru Dumitru.
The Relais & Châteaux Bistro Ateneu menu is built around very good quality raw materials, selected by chef Alexandru Dumitru. The restaurant's main ingredients are seasonal vegetables, forest mushrooms, aromatic plants, but also wild boar, pigeon, lobster, and wild fish. All the procedures, from cleaning the ingredients to preserving them in sauces, preserves, pickle mixtures, smoking fish, etc., will be carried out in the restaurant, so that each preparation fully illustrates the team's gastronomic philosophy.
"It is an effort that few venues make, but it gives you the opportunity to play as you wish with the raw materials, with their flavours and textures. As a chef, I feel that this is the only way I can gain the freedom to create dishes that celebrate our seasonality, Romanian terroir, traditions and our cultural wealth," added chef Alexandru Dumitru.
The venue will also delight its guests with a selection of exceptional dishes that will highlight ingredients from other countries, used at their peak season.
In order to reinforce its commitment to Romanian gastronomy, the restaurant will constantly host four-hands dinners, inviting highly appreciated and valuable chefs from the Relais & Châteaux network. This way, professionals from all over the world who are known for their culinary vision will discover Romania, its local products and artisans, and will present some of their favorite ingredients. "It will be a very interesting cultural combination, in which we promote the local terroir and discover, in our turn, valuable elements for other cultures," says Cristian Preotu.
Building a garden and restoring a mansion in Balotesti – Le Manoir group's new projects
In May, the Relais & Châteaux Bistro Ateneu team started work on landscaping the gardens and greenhouse in Balotesti.
"The mansion is a project in itself, which we will launch in stages. First, we will deal with its functional side, we will grow fruits and vegetables here, the goal being for the Relais & Châteaux Bistro Ateneu restaurant to become quasi-autonomous by 2020. Later, we will arrange the outdoor surface, making it suitable for outdoor events, and by 2024, we will rehabilitate the historic building, in order to make room for accommodation spaces. We are talking about a total investment of over EUR 1 million over the next 4 years," said Cristian Preotu.
For the new restaurant, Relais & Châteaux Bistro Ateneu, Le Manoir forecasts a turnover of EUR 1.2 million, more than 30 percent higher than the value recorded in 2018 by Relais & Châteaux Le Bistrot Francais.
The new Relais & Châteaux Bistro Ateneu restaurant will be open from Monday to Sunday, between 12:00 – 15:00 and 18:00 – 22:00.