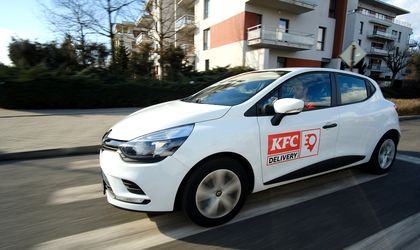 KFC Romania has launched its own online ordering platform – https://delivery.kfc.ro/. Thus, at the moment, customers have three options to order their favorite KFC products at home: the brand's own website – delivery.kfc.ro, the call center service and the online ordering partner platforms, both in Bucharest and around the country.
The new platform offers to customers an intuitive user experience, making it easy to place quick orders, everything being available just by pressing some clicks. Last but not least, the online platform has a series of unique, exclusive offers for  consumers, dedicated to this new channel. Currently, it is only available for Bucharest, where online orders will be delivered through the KFC Delivery service. Across the country, delivery is ensured by online partner platforms operating in the cities where KFC is available.
"Digitization – of course, a strong brand like KFC needs to align with global trends and new consumers' habits. Therefore, our own online ordering platform is the natural step in the development as a business. But this channel not only has the role of offering the easiest and most pleasant ordering experience to customers, but also of providing them with exclusive deals, available only on the platform. Beyond this, we are strategically investing in the KFC Delivery component, where we are already strongly active. Given the current context, the plan is to strengthen the delivery service to cover as many areas as possible, both in Bucharest and in the country, in the most varied and efficient way",  said Marian Gogu, General Manager, KFC Romania.
Delivery has always been an important business pillar for the company since 2017, when the KFC Delivery service was launched. Starting with two restaurants in Bucharest, the service has gradually expanded to 79 locations in 32 cities, so far. The new digital platform significantly contributes to the business development, with an investment that will have an immediate visible impact, but also on the long run.
The launch of the platform is announced within a proper context, with a clear focus on the delivery area, which is constantly rising. Therefore, KFC continues to invest in the development and expansion of the business delivery wise in order to both logistically improve coverage areas and the consumers' interaction experience.