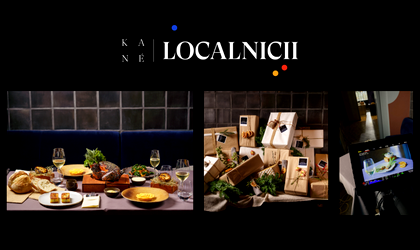 The #Localnicii platform, developed by Kané Group, is about transforming a restaurant into a platform designed to encourage the purchase of local products from entrepreneurs who have emerged in recent years and who, this year, have lost their channels of interaction with their customers.
Together with over 90 local producers in the hospitality industry, ingredients producers and creative industries, we aim to sell over 30,000 products in the coming months and create a sustainable movement to support the new entrepreneurial class that makes life in the big cities in Romania a really valuable one!
Somehow the illusion was created that "local producer" means only old traditions and by no means that we can talk about a generation of young entrepreneurs eager to do great things and make our lives better. Those creating ingredients, restaurants and cafes, the ones who have laid the foundations of sensational micro-brands in recent years are in fact the people who have made the city life a really pleasant one. We want to transform buying a zacusca into a gesture as "fashionable" as buying the coolest shoes and through #Localnicii this is what we are set out to do", Răzvan Crișan, co-founder of Kané Group.
Developed on 4 levels, the #Localnicii campaign has the mission to highlight some of the most talented entrepreneurs, in an effort to encourage their businesses and stimulate the consumption of Romanian artisanal products.
Together with our partners we desire to do the most important thing possible for them – to generate sales for their businesses, and this way, every month, thousands of products from our chosen entrepreneurs to reach their end customers!
The Kané #Localnicii initiative means:
A communication campaign presenting small and medium local entrepreneurs from hospitality, local ingredients and design. You get to know them, read their stories and support them by purchasing their products on localnicii.ro, the Kané #Localnicii initiative's website.
An online show designed to present these entrepreneurs in an entertaining way, talking about adapting business to the present, plans for the future, ingredients and local products, all of these while testing delicious recipes together with Chef Cătălin Bejenariu.
Probably the most important element of the Kané #Localnicii initiative is Cutia cu Localnici – a campaign addressed to companies and individuals to support these businesses around us, by choosing the Cutia cu Localnici, with exclusively local products. Each month, Kané will curate a selection of local producers on a specific theme for the current month. We started with December, the month of gifts, with a festive box, just right as a gift for the loved ones, but also a very simple way to support a community of small entrepreneurs.
A food delivery initiative by Kané, based on comfort food with ingredients from our local suppliers and wine from small local wineries. We continue to do what we know best, to cook and transform local ingredients into something really tasty.
In developing the Kané #Localnicii campaign, we joined our efforts with partners who understand the importance of entrepreneurial businesses and choose to support local talents.
Together with CEC Bank, Mastercard, La Provincia and Romanian Business Leaders, our intention is to make these entrepreneurs' stories even better known and to support them with what matters most: generating sales!