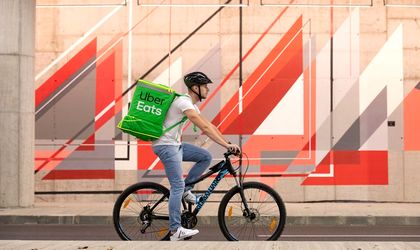 Uber Romania has announced the expansion of its food delivery service Uber Eats to Timisoara, starting on Tuesday, with over 60 restaurants available at an average delivery time of 35 minutes.
Uber Eats is a separate app that uses the same technology as the Uber ride sharing app. It has partnered with over 220,000 restaurants in over 500 cities in 36 countries.
Among the restaurants currently available on Uber Eats in Timisoara are Spartan, Chopstix Ready to Box, The Drunken Rat and Meat Busters.
The service will be available between 10:30 AM and midnight, in the central zone as well as areas like Calea Sever Bocu or Calea Martirilor.
"A year after the launch of Uber Eats in Bucharest, we've decided to expand to Timisoara, because it has a lot of potential in this sector. People in Timisoara are open to new ways of ordering food using technology, when it comes to users as well as restaurants. Furthermore, Uber Eats has contributed to the development of hundreds of businesses in Bucharest, which encouraged us to launch the service in Timisoara as well. This way, restaurants will be able to reach more customers, while food will reach Timisoara users through a simple touch of a button," said Ioana Ilie-Dobre, Country Manager of Uber Eats Romania.
Uber Eats collaborates with partners who use bikes, scooters and cars, and users can track their orders in real time, schedule an order or get personalised recommendations based on previous orders.
In Bucharest, Uber Eats has partnered with over 800 restaurants, and many of them have had an increase in revenues thanks to the app. According to a survey among 50 top restaurants on Uber Eats in Bucharest, 82 percent said the app has helped them increase their order numbers, while also providing quick delivery (70 percent) and higher business visibility (68 percent). Almost half (47 percent) said they recorded a growth between 10 and 30 percent.
"Most Uber Eats users are looking to order lunch and we've also promoted the idea of weekend breakfasts, and so our weekend orders have increased by at least 50 percent," said Radu Darie of Atelierul de Tarte restaurant in Bucharest, which has been listed on the app since its launch. "In 2018, our collaboration with Uber Eats led to a 20-25 percent increase in our turnover compared to the previous year because users started to order during weekdays as well. Currently, about 20 percent of our sales come from Uber Eats," he adds.