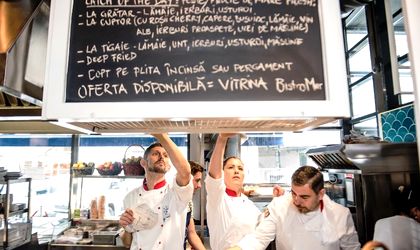 Brothers Mihai Darmanescu (founder of Alfredo Seafood) and Diana Darmanescu opened BistroMar, a restaurant specialised in fish and seafood following an EUR 200,000 investment.
The owners aim to reach a monthly turnover for the restaurant of EUR 100,000 at the end of 2019 and stabilize after that at around EUR 1 million yearly.
BistroMar has a 50 smq service area inside and a terrace of 30 sqm.
Focused on the concept of live cooking, BistroMar has an extremely large variety of fish and seafood varieties coming from all corners of the world. Some of them are ultrafresh products, fished and transported in the country in ranges from 10 to 60 hours.
RON 60 menu of the day
According to the owners, a lunch for one person is around RON 90 in the "a la carte" and RON 60 for the menu of the day.
"The opening of BistroMar is a soul project, I have been thinking about for 4 years. (…) We thought BistroMar as a blend between a Gourmet Bistro where savory specialties cooked according to recipes signed by Chef Catalin Jernoiu and a fish shop where we sell both raw, bulk and packaged products are served. We are considering expanding BistroMar to a franchise system, and for the time being we are focusing on the smooth running of the first open unit, "said Mihai Cristian Darmanescu, BistroMar's general manager and founder of Alfredo Seafood.
Fish and seafood exposed in the refrigerated display case come mainly from the continental seas of Europe, from closer sources such as Greece, Italy (Mediterranean), but also more remote, such as: Atlantic, Denmark, Norway, Ireland, France, Portugal.
Among the specialties, some of them are found only at BistroMar such as fresh red tuna, wild royal tuna, sea wolf, Argentine shrimp, pagel, sea bass, John Dory (over the carpenter), dentex, serium, tongue, turbot, over the sword, Jacques, oysters or lobster.