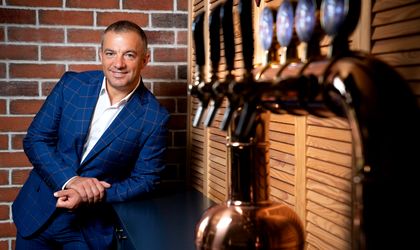 74 percent of people in Bucharest go out to eat at least once a week, their favorite pubs, terraces, restaurants are in the city center, and they mostly eat traditional Romanian dishes, according to a study by the City Grill Group.
According to the study, Romanians go out to dinner quite often, and the food they generally like is also the food they order when they go out. Thus, 66.2 percent said they were fans of traditional Romanian food, and 76 percent of the respondents had ordered such specialties in a restaurant during the last three months.
Romanian food is especially preferred by men, aged between 40 and 49, who have average incomes. Women prefer Italian, Mediterranean or Lebanese cuisine, and so do the younger consumers.
As customer incomes grow, preferences move towards Asian cuisine, especially Japanese. As for drinks, lemonade (61.8 percent), along with fresh juices, are the most common among women's orders, while men prefer bottled beer (53 percent) or draughts (39 percent). Tea is less popular, ordered by 18 percent of the respondents.
"The study reconfirmed the fact that we positioned ourselves correctly on the market with the Group's restaurants, as our consumer profile is divided among people who prefer traditional Romanian cuisine – which can be found in Caru cu Bere, City Grill, Hanu' lui Manuc, Hanul Berarilor and Pescarus – and Italian and/or Mediterranean, which they find in the Trattoria Buongiorno chain and partly at Pescarus," says Daniel Mischie, CEO of City Grill Group.
As for how often they go out to eat, half of the Bucharest residents who participated in the study by City Grill Group said they tend to go out 1-3 times a week. Most prefer neighborhood restaurants, but they especially like those in the city center. 35 percent are interested in having a child-friendly venue, while one out of five men like to watch sports on TV while eating.
The study also showed that the Caru cu Bere restaurant is the favorite restaurant of most people in Bucharest, and among the reasons they like it are the good food (83 percent), but also the atmosphere, the restaurant design, the accessible location, and the story of the place.
Men aged between 24 and 39 are the ones who eat in restaurants most often, and they are also the ones who are least bothered by eating out alone (29 percent), compared with only 10 percent of women. Most women, ie over 60 percent, prefer to dine in town with friends.
As for the budget allocated to dining out, 34 percent spend less than 50 lei, while almost one third allocate between 50 and 99 lei. 32 percent spend over 100 lei, and almost 10 percent spend over 200 lei for a meal in the city.
City Grill Group is the most important Romanian player in the restaurants industry. Founded in 2004, the City Grill Group currently operates restaurants and cafes under the brands Caru 'Cu Bere, Hanu' Manuc, Pescarus, Hanul Berarilor, Trattoria Buongiorno, City Grill and City Cafe.