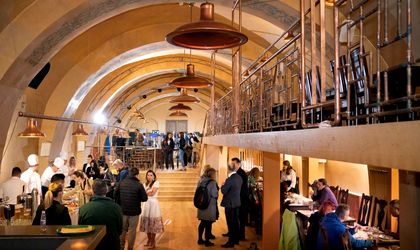 The City Grill restaurant group announced on Thursday that it would reopen the former Becker Brau brewery and restaurant on May 1, which will be operated by Hanu' Berarilor. The reopening follows an investment of over EUR 500,000.
The investment would contribute to the development of a new gastronomic area of Bucharest – Rahova-Uranus – and be part of the group's expansion plans to open restaurants in historical buildings.
"Becker Brau is located in an area that is becoming a real gastronomic landmark of the capital. We see a very high potential to attract the public here – both Bucharest locals who are familiar with it, as well as tourists who want to see historical areas of the city. The restaurant operated by Hanu' Berarilor will certainly contribute to the development of this area and give it back its charm," said City Grill General Manager Daniel Mischie.
The new restaurant will be open starting May 1 with a staff of 100 people. It can welcome up to 500 guests inside and on the terrace. The menu includes traditional Romanian foods as well as a unique drinks selection, including Becker Brau beer, launched there in 1996, and Ursus Tank, which was recently launched in Romania.
Becker Brau restaurant is located on Calea Rahovei in the former beer factory in the Uranus neighbourhood. When it opened in 1996, it was the first place to sell craft beer in Bucharest.
At group level, the total budget for investments in 2019 exceeds EUR 3.5 million. City Grill Group ended Q1 2019 with a turnover of EUR 7.5 million, a 20 percent growth compared to the same period of 2018.
City Grill has over 1,350 employees in its restaurants and coffee shops and is one of the largest employers in the restaurant industry in Romania.