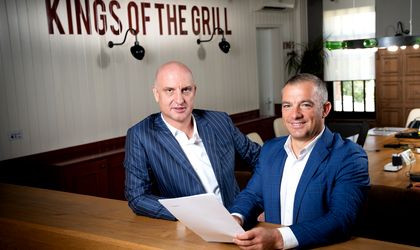 City Grill Group, the biggest restaurant group on the local market, is celebrating its 15-year anniversary and estimates a turnover of EUR 42 million for this year and 5 million customers.
The group started out in 2004 with a City Grill restaurant in the Primaverii area of Bucharest. It now owns 9 brands, 18 restaurants and coffee shops and a team of 1,350 people – the largest Romanian employer in the hospitality industry.
"With each brand we've introduced to our portfolio, each restaurant we've opened, each customer we've served, we learned something new about the Bucharest public, their expectations and gastronomic preferences. The areas we've chosen to develop in – traditional and Mediterranean cuisine – remain the most popular among customers, even though tastes have diversified compared to 15 years ago and there is now more interest for other international cuisines," said Daniel Mischie, the CEO of City Grill Group.
In 2012, City Grill Group launched the Out4Food loyalty programme, which currently has 115,000 members. Through the programme, customers can save 10 percent of the value of their check. In 2018, Out4Food customers generated 40 percent of the group's turnover and they visited the group's restaurants an average of 7.6 times.
In 2019, the group's turnover will be more than 25 times higher than the one recorded in 2004 – EUR 42 million compared to EUR 1.6 million.
Two-digit growth for restaurant market in 2019
Compared to 15 years ago, the restaurant market has seen a strong development, and is expected to reach a value of EUR 3 billion this year, which would mean a growth of 12-15 percent compared to the previous year.
According to Mischie, the most important milestones that have positively marked the restaurant market were taxation, the ban on indoor smoking and the EU accession, all of which helped develop the industry by diversifying and increasing the number of restaurants. "Furthermore, thanks to tourism, customers have started to have more appreciation for service quality, ambiance and design of restaurants," he added.
Current trends show a dominance of lunch restaurants (convenience) and event restaurants (dinner), as well as deliveries. The focus has also moved from quantity to quality, while dishes prepared with local and fresh ingredients are increasingly popular.
In the next 15 years, the City Group CEO expects the industry to be highly influenced by digitalization, the preference for local ingredients and the expansion of delivery services.
"Lunch is more frequently served at the office or at home, even though the food is ordered from the restaurants people like. It's a phenomenon that will remain active and that, due to traffic and the difficulty of finding a parking space, together with the comfort of eating at home or in dedicated areas at the workplace, will replace eating in restaurants in the long run," he said.