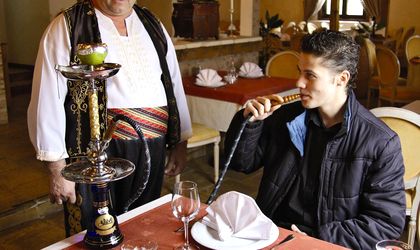 Chez Toni, Str Glodeni, at Pescariu Tennis Club 021 242 0204
Lebanese cuisine could be, and should be, fabulous. But not in this city. I can draw an analogy with Bucharest's Italian chophouses, all of which have the same, boring trattoria menu. Identical in every restaurant, it is a tourist menu which uses Romanian local supplies and then adds Italian names to each dish.
I am sorry to say that the same applies to the numerous Lebanese restaurants here. When I say numerous, I mean there are the same number of them as there are phony Irish bars. And that is a lot. So I went to the new Chez Toni hoping for something different from the rest, but no! It was the same old menu that every other Lebanese restaurant offers.
So let's look at what a Lebanese restaurant should offer you (but you will not get in this town). Just look at a map of the Mediterranean. You will see that Greece, Turkey and Lebanon are all neighbors sharing the same climate, the same fish, the same choice of meat and the same vegetables.
The Greeks are lazy when it comes to gastronomy, so they bake a couple of lamb shoulder dishes as traditional cuisine and then BBQ a bit of fish and a few skewers of lamb on a grill. The Turks are a tiny bit more adventurous, but treat their meat and fish in a similar fashion. They have far better bread than the Greeks and are more adventurous with their vegetables.
But when it comes to Lebanon, it is so very different. Lebanese history makes it the most dynamic cuisine in the Middle East. With a thousand-year history of tolerance for all races and religions in the name of trade and commerce, they have imported both spices and cultures from all over the world.
So let your imagination wander around a genuine Lebanese restaurant to which you are welcomed with a table laid with a bowl of fresh raw vegetables from around the world for you to chew on as you peruse a menu offering you Toum (Arabic aioli with crushed garlic, salt and olive oil), Mahab flavored dishes (an aromatic spice made from cherry seeds), meat flavored with anise, cinnamon and even coconut, meat and rice stuffed zucchini, M'amoul (pastries stuffed with dates or pistachios), Ka'ak (sweetbread rolls with sesame seeds, Pastirma (pastrami) olives, snails, whole roasted birds… oh what is the point in me continuing to tease you.
Because YOU ARE NOT GOING TO GET THIS in this House, or any other Lebanese restaurant in Romania.
What you will get is any dish that can be made from ingredients purchased from Bucharest's Billa, Carrefour or Metro. This House is both lazy and greedy. In a nutshell: they base almost everything on locally supplied parsley, lemon, garlic, yoghurt, eggplant and packaged nuts. Middle Eastern cuisine? Oh give me a break!
If you want an example of local produce, look at their soup menu. They have: vegetable, vegetable and beef, chicken and lentil. Is there any Romanian housewife in the land who does not make those soups daily? Have I made my point? No, well if not just look at their fish menu with grilled Dorada, Octopus, Prawns and Perch. Does that sound familiar to you? Have you ever been to a Romanian chophouse which does not have them on the menu?
And as for their local Romanian meat: well they had the usual suspects of beef, lamb and chicken kebabs. Basically this means cubes of meat impaled on an iron skewer and grilled over a charcoal fire. No, not here. They must have used an electric grill because there was no charcoal sensation whatsoever. Worse still, the House knows full well that a kebab dish must be accompanied by a portion of gorgeous 'Turkish rice' (there was none of it), red cabbage (none of that either), red onion (two mean slices) and coal grilled tomato (it was raw).
For this aberration we were charged a whopping RON 45 – for three skewers of mixed grill meat on one plate. Outrageous.
They are so mean that they even charge you for the most basic staple of Lebanese cuisine: pita bread. I have eaten my way across Lebanon for half my adult life and never have I been so insulted as to be charged for bread. It should come steaming hot, free of charge and in literally unlimited quantities. But not here. Shame on you House!
Astonishingly, with the House knowing that all Lebanese dishes must have the option of a side of fresh lemon and olive oil, there was none on my table (nor were there any olives) so I had to ask for them. They were simply taking the piss out of their customers who did not
know these simple rules. Well they do now!
To look at their Lebanese offerings, yes, again they had trawled the local supermarkets (local means Bucharest, not Beirut) and produced Baba Ghannouj (smoked eggplant with garlic, onion and peppers), a variation on another standard Romanian dish. There was of course Hummus, Tabouleh (parsley salad), and Foul Mudammas (fava beans with garlic and lemon). Take note that all of those three dishes can be purchased off the shelf in Mega Image at a fraction of the price charged at Chez Toni.
They had other tourist dishes which were too boring to mention. Was it genuine Lebanese food? Yes, but it was a selected menu to optimize Romanian supermarket products rather than to give you the magic of creative Lebanese cuisine.
To achieve that, you have to go to the capital city of Lebanon, which is of course London!
Michael Barclay
mab.media@dnt.ro