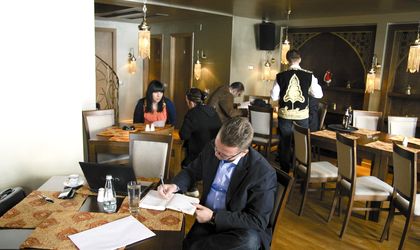 Iam standing in Lipscani. There are three-four bars in every street. It is a drinker's paradise with up to 10,000 people revelling there on a good evening. The bars are all full, but where can you eat? Although the bars sell 'bar food' the area cries out for real restaurants.
Help is at hand in Franceza Street; with a mere four restaurants to serve the entire area they can't go wrong. So let's look at the new Turkish Divan.
There is not much to say about the décor; it's pretty plain. Just wood and… wood. So l asked for the menu and in response they gave me a book. Yes, that was the menu with over 230 different dishes and drinks listed. If that was an attempt to impress the customer, it failed as the ludicrous size simply irritated this customer.
But I reminded myself that I am in Bucharest, a city where men must have a big fat mouth attached to their mobile phones in public, have a big car, keep a big dog, have a woman with big false plastic breasts, and in the case of a restaurant – have a BIG menu. This is such a crude third world attitude, it's just so very typically Romanian! I suspected the House could not support so many items on the menu and I was soon to be proven correct.
So I turned to the first page in the 'book' which offered you a choice of pancakes, namely: with spinach, without spinach, with potato, with cheese etc. But at a mere RON 10 they were fairly priced. They could have put it all on one line instead of filling a page in the book. We passed and went to the next page in the book which revealed their starters.
Again, the prices were a bargain, all around RON 10. There was a typical Mediterranean selection of 'mezza', which if you are an aficionado of Greek or Lebanese cuisine, these dishes will be instantly familiar to you. But with one exception. For when the Turks spice up a dish with pepper, unlike their neighbours it is red hot. So you have been warned!
So expect the usual suspects of hummus, eggplant puree, spiced tomato and so on. At this stage, if you had the book in front of you, you would be wondering what the difference is between Greek, Turkish and Lebanese cuisine is. There is not much difference other than the olives, of which each nation is correctly and fiercely proud.
Certainly the Lebanese us more fresh herbs (think tabbouleh) and the Greeks use more cheese (think feta) but they all agree that the bedrock of their three national cuisines is lamb. Let's face it, a Turkish restaurant without lamb is like a Chinese restaurant without rice! But that is what I got. No goddam lamb. How could they be so careless? And why didn't they strike it off the book, rather than leaving it there purely to frustrate the customers.
Not having published dishes in stock exposes the House to ridicule, and that is the price they must pay for their boastful list of 230 items. However, what we were eating was excellent and it was about to get better.
Our Turkish 'pizzas' were superb. Not to be confused with the Italian version, these discs contain no mozzarella, olives or anchovies. They are traditionally a selection of spiced ground beef or lamb and are best eaten after your mezza and before your main course.
Away we went to several kebabs. They had a larger selection on offer than their competitors and this included beef, lamb, beef and lamb combo, chicken and marinated meat stuffed in an eggplant. They were correctly charcoal-grilled and at less than RON 30 (together with copious amounts of hot fresh bread) they were a bargain meal unto themselves. It has now become de rigueur to serve kebabs with rice and pine nuts, red cabbage, onions, lettuce, roasted peppers and grilled tomatoes. Sure enough, the House did so likewise.
For obvious reasons (look at the map) seafood figures highly in Turkish cuisine. So rather than eat our way through the book, we settled for a sample of their products in a mixed seafood casserole. With clams, baby prawns and calamari in a superb tomato sauce, it was as good as it gets.
You can end your meal with a fruit flavoured tobacco smoke through a water-cooled 'Hookah' which most people of my age remember as being called a 'bong' which was always smoked at home! Even if you do not smoke cigarettes, you will find it to be an aromatic and positively therapeutic experience. Hence, most people enjoy their smoke stretched sideways on a sofa, somewhat reminiscent of a Roman Emperor.
I am always reluctant to make comparisons between restaurants in this column. But if you know Bucharest, you will already be making your own comparisons with Divan against the old, tired Turkish Golden Falcon, and the bright, breezy Lebanese Al Basha, both of whom have a similar menu to Divan. All I will say is that one of these three chophouses was vastly superior to the others – and they had a larger menu!
Michael Barclay
mab.media@dnt.ro