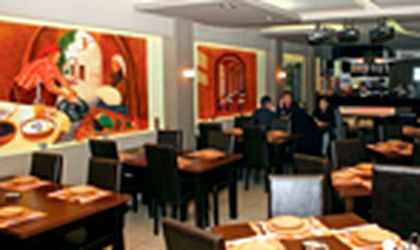 But this is mean Romania where greed prevails and giving a gift gratis by the House is considered to be an act of madness, so let's forget the crudite because you are not going to get it!
What you will get instead is a fair representation of Lebanese cuisine. But be warned, the Lebanese restaurants here which are: Piccolo Mondo, Crocodile, La Bacha and Tripoli all succumb to the "Italian job."
What I mean by this is that you take hundreds of Italian chophouses, and each one of them has the same boring IDENTICAL tourist Trattoria menu. It is good business for them as they simply buy their raw materials from Romanian markets, and sell the finished product to you with an Italian name attatched. Regional imports are not undertaken, so laziness and indifference prevails.
The Lebanese restaurants here are in the same boat as the Italian Trattoria. A cursory view of each of their menus reveals nothing more than Romanian street market produce which has been cooked with Lebanese names attached.
No effort whatsoever has been made by any of them to import quality Middle Eastern produce such as the most basic staple – lamb.We all know that you cannot find a decent cut of lamb in this country, so the Lebanese chophouses simply substitute it with non-original products, such as chicken and beef.
So although Tripoli has a lamb chop on the menu, the alternative main courses were simply spit roasted beef and chicken. Oh yeah ! Very Lebanese -not! Nor Lebanese was their chicken or beef shaworma. Traditionally this fabulous and fun dish is always marinated lamb, spit roasted with vegetables and served with tahina sauce, salad and hot peppers. But it must be lamb and not chicken or beef!
OK, now let's get down to the good things about Tripoli. Lebanese cuisine has always been the leading light in Arabic cooking. A profusion of fresh herbs prevails with a dominance of mint, nuts, burghul, sesame seeds and yoghourt.
All of these are presented to you in the traditional fashion of 'mezze' -an endless selection of hors d'hoeuvres rather than a big filling of a main course, which in Bucharest such a main course will be a kebab or a simple roast.
When I am in either Lebanon or London the presentation of each dish is a piece of artwork, but again, this is Bucharest so this piece of artistry goes out of the window. But we had the option of 15 different salads (come on, you know what is in a salad) and 5 hoummous dishes with options of meat or pine kernels added. All prices were below 2 RON and each dish was exceptionally good.
So in keeping with the mezza tradition we had perfect 'falafel' (chick pea onion and garlic fried ball) together with 'tabouleh' (parsley, tomatoes, onion and olive oil) a giant 'Tripoli Salad' (olives, avocado, lemon,cucumbers and tomato) a 'Arayes Diej' (pitta bread stuffed with spices, cheese and chicken) and …and…oh so much more from their menu of some 80 dishes.
Look, please let me make one point clear. I am eating in Bucharest, and not in Lebanon or London, so I cease to make any further comparisons between these cities. Tripoli represents the best quality and value for money that you will find for Lebanese food in Romania and I hugely recommend it to you.
Hey, just a minute! Isn't Tripoli also the capital of Libya?
Michael Barclay