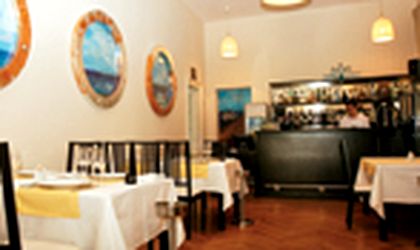 For me, a fish without a sauce is like walking the streets naked, which of course can be quite interesting, if not adventurous. So if you are a fish lover I have included some basic tips on fish sauces herein under 'Chef's Tips.'
But although the House serves its fish naked (that means no sauce, not naked waiters) you should still go there for the widest selection of fresh, really fresh fish in Romania. They have made an attempt at sauces, but they are really side dips such as lemon and olive oil and honey and mustard.
There is also a kind of sauce with a 'Meuniere' (browned butter, lemon and parsley) but here the fish rather than the sauce does the talking. So away we went to sliced octopus cooked in butter and garlic. It was perfect with no 'freezer bag' evident by means of a rubbery texture.
Our king prawns were exactly what they said they were and my halibut was exactingly examined by myself for freshness, and it passed with honours. It was cooked according to my instructions, which was to have it slowly grilled in butter.
The menu revealed an astonishing array of delicacies such as: bream, halibut, monkfish, red snapper, tuna, salmon, lobster, sardines, calamari, cuttlefish and bass. Naturally they did not have all of these on display in their chilled cabinet as many of them are seasonal catches. But I have every confidence they will fulfil their menu promises as the seasons prevail.
Thalassina is a nice, bright, happy place which is clean and simple. And thank God there are no ludicrous artefacts on the wall such as plastic lobsters and fishermen's nets. Thus far we have three fish restaurants in town; Messogios (overpriced and pretentious), Mama Leone (Romanian and good for quality and value) and Thalassina. I won't say which is the best, but here is a clue: I am racing back to Thalassina this week!
Chef's tips
The basis of most fish sauces is fish stock. If you are lazy, you can buy Knorr Fish Stock cubes from www.expatshop.ro. Alternatively, go to your favourite restaurant and ask the chef for 'frames' – that means the head and skeleton of whole fish he has filleted.
The manager may pull a face at this request, but the chef will love you to pieces for your diligence and he will lovingly hand them over to you gratis. Now let's make sauces:
Make your fish stock by simmering gently for a max of 20 minutes, fish frames, carrots, onion, celery and a bay leaf. Then drain off the liquid stock and throw away the solids. On another oven ring, fry onions and a little garlic for a few minutes, then add fish stock, a glass of white wine and half a glass of vinegar. Boil furiously for five minutes and when it is cold add a little water to remove the cloudiness plus thickener of cream or flour.
To serve, sprinkle on the sauce either (but not both) cold capers or finely diced and de-seeded cold RAW tomato. Die and go to heaven!
Next, for a simpler sauce you don't need fish stock so simply make thin paste from white wine and flour, add melted butter, heat it and garnish with raw coriander (the stalks are better than the leaves) or parsley.
Now try tomato butter, a simple thick sauce made by heating lashings of butter and crushed garlic and slowly stir in a few spoonfuls of the contents of supermarket passata to the sauce.
OK. There are three sauces to get you started. Needless to say there are hundreds more to be experimented with and enjoyed. As a general rule Cognac can be added to most sauces and if you are going to add lemon, use the skin/rind when cooking as the acid in the lemon juice is horrible when cooked. Otherwise squeeze the fresh uncooked juice on the fish once the dish is cooked.
Also remember that garlic adores all crustacea, but think twice before cooking white fish in it. Sometimes it works, but not always.
Stronger fish like salmon and trout love to swim in a boiling sea of cider (again available from www.expatshop.ro) so poach/casserole them whole in cider, or as an alternative use a combination of white wine and apples.
Finally, fish is so delicate it should ideally be steamed, and that means it is begging to be cooked in either a sealed plastic bag in a microwave or in tinfoil in an oven.
Bon appetit!
Michael Barclay
mab.media@dnt.ro