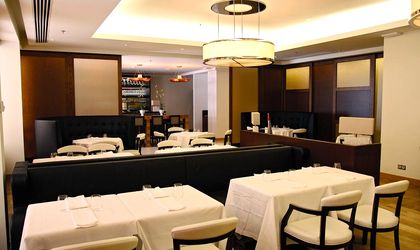 Roberto's at the Hilton, tel 021 303 3777
I have not eaten at the Hilton for over a year, and for two very good reasons, namely: it has been closed for some time for renovation, and the menu was dull and unimaginative. The latter was entirely due to the chef and his boss, and since they have both moved on, it is time to look at the Hilton again. So with a new Italian chef and new management together with a total facelift, checking them out was irresistible.
Michael Barclay
And what a facelift they have had. Doubtless you all remember the old restaurant with its big central 'gondola' displaying cold dishes, bench wall seats and a tiny stage. Well, it's all gone. The new Roberto's is a delight. The old floors have been replaced with a combination of parquet, hard wood blocks and marble. All of the seating arrangements have been changed in a configuration to accommodate specific groups of tables for two or four diners together with groups.
The kitchen wall has been knocked down to reveal a semi-open kitchen, and as for the atmosphere – it smells beautifully like the interior of a new Bentley. All polished wood and rich leather aromas from the new seats.
So far, so good. To match the impeccable interior we had the usual Hilton impeccable service from their impeccable staff. But we didn't get down to their new menu as we were informed that they had a private event on so the kitchen was booked up, which means no a la carte menu, just the terrace menu. OK, these things happen, but I have to tell you what we missed from the a la carte. I nearly died from frustration in anticipation of their starters such as 'chicken liver pate on a bruschetta with Scamorza' (a combination of cow and goat cheese), 'Burrata (a combo of mozzarella and cream) with basil oil and roast tomato' and 'ruccola and asparagus salad with two-year matured Parmesan and Taggiashe olives (uniquely flavoured olives from the Liguria region of Italy).'
By now it was apparent that the House had gone to an extra effort to import Italy's unique regional products. This policy was extended to their mains which included the shamefully healthy organic pastas from Dl. Valentino Felicetti in the Umbria region and another pasta made from organic Egyptian Kamut flour. The menu groaned under the weight of so many regional Italian specialities such as 'swordfish Beccaficu' (a Palermo dish usually served with nut and vegetable stuffed sardines) and 'calamari Panzanella' (a combo of bread, olives, garlic, balsamic, onion, tomato and basil). I could go on forever, but I missed all of these beauties. Now see what I did get.
So they gave me the La Strada Terrace menu, which was quick summer terrace food including pizzas and pastas. I started with a Calabrese pizza which was a failure as the pastry base was as hard as stone. I simply could not cut it! The kitchen's mistake was obvious as they had not stretched the pizza dough and added yeast (drojdie). I forgave them for this as the rest of their bread (a similar formula to pizza dough) was superb. OK, every kitchen can have a bad day and I suspect that you will get a perfect pizza base when you go there. So our perfect waitress Gabby was gracious enough to strike it off the bill! This wonderful girl has served me and other Hilton regulars (whom she knows by name) for 12 years. She is a perfection of professionalism, so bravo House!
Off I went to their salad section. I can never get excited about salads other than to say that if they are fresh, they are acceptable. The Caesar salad was fresh and correctly made, so it was good. We passed on their well planned sandwich section which started with a choice of breads including baguette, or ciabata, or focaccia… and thereafter you add your filling from a well composed selection of choices such as Mozzarella, Prosciutto, bacon, ruccola, cheddar, onion Brie, tomato and salami.
My main was a 'cod on a bed of asparagus and wrapped in a rosti (shredded fried potato)'. It was so generously large that it filled me and spoiled me from further sampling the menu. They really have gone to extraordinary efforts to ensure that their dishes are unique to the House and are not found elsewhere in other restaurants, and I must commend them for that. And now for the biggest surprise of all. The prices are all so reasonable that they can compete on an equal footing with any other quality restaurant in town.
mab.media@dnt.ro