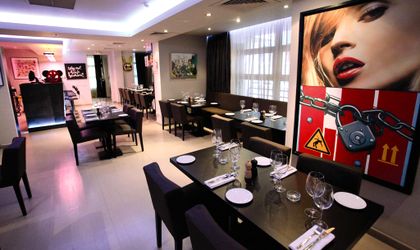 Le Cantine de Nicolai, Str Povernei 15, tel 0725 210608
I know every French chef in this city, so when my friends recommended Le Cantine as a French restaurant, I realized that they did not have a French chef at the helm. By a simple process of deduction it was evident that they must have a Romanian chef! At this point you may well wish to share my skepticism, as my experience dictates that the best effort most Romanian chefs accomplish is to burn a pan of water!
So naturally I was curious to see how a Romanian chef would handle French cuisine. OK, let's go and see. The restaurant is well located between Romana and Victoria, so you have no excuse for not finding it.
The décor is safe and conservative, and I ask you to bear this comment in mind as it reflects the menu, which is equally safe and conservative. There is a glimpse of Gallic humor in the décor as it includes a grotesque, wall mounted montage of Andy Warhol's pictures of Marilyn M. Oh yuk! It is so corny, kitschy and bad taste that paradoxically it accidentally turns full circle and becomes good taste in a light hearted and humorous manner. But we are here to eat, so let's get down to it and pig out with me.
It is not cheap. Prices for each dish start at RON 50 and go upwards rapidly, and as for the cost of the wine, don't even ask! This makes me angry because this is the price you would pay in a good, mid-range, sophisticated restaurant in London or Paris. But we are in filthy, polluted, over-priced Bucharest and the House is deluding itself if it thinks it is on an equal and level price footing with European restaurants.
So here is the menu. They have the ubiquitous French Onion Soup, which was absolutely perfect, or as an alternative they had a lesser breed of Cauliflower Soup. In keeping with a French theme, they offered Duck Foie Gras which we passed on because it is so ordinary and available at every hotel Sunday Brunch. Blondie and I were equally uninspired by their Duck Magret (duck breast) with bean salad which we passed on, and we economized by not ordering their Lobster Salad with Truffle Vinaigrette.
But a pattern was emerging of classical, mundane French dishes that time has overtaken. We were about to discover that the Romanian chef really could cook everything on the menu to an exceptionally good level. But therein lies the problem, because the menu is so very boring. It is like something out of the 1960s. Let me prove my point.
For mains there was a choice of: Osso Bucco, or Sesame crusted Tuna, or Prawn Mozzarella, or Steak Tartar, or Beef with Foie Gras, or Sirloin Steak with Bernaise Sauce, or… oh come on, people! None of this is culinary rocket science. It is simply outdated and boring. But on a positive note, whatever the chef produced, it was perfect. All of my misgivings about a Romanian producing French food went out of the window when we had our mains. They were great.
I ordered St Jacques (scallops) with puree potato and shaved fresh black truffle. The scallops were grilled for a few seconds so they arrived moist, correctly under-cooked and generous with five of the beauties. Blondie, being the unimaginative creature she is, saw me ordering seafood, so she followed my lead and ordered a Saddle of Cod. It was soft, flakey, moist and generally perfect. I went to the kitchen to ask the chef how he prepared it, and he confirmed my suspicion that he boiled the cod rather than adhere to the Romanian principle of frying everything with a face on it, whether it be meat or fish. Bravo chef!
Gluttonous as ever, Blondie ordered a second main of Chicken in its own juice. Well, there was no juice whatsoever, but she had a perfect, moist, tender half chicken, which I suspect was roasted and later deep-fried. She loved it, but it needed a sauce so I told her to order a side of rather good Roquefort sauce of which we both approved.
I had a simple Roast Beef, which is a dish that has confused the French nation ever since they were taken over and conquered by the British at the battle of Agincourt in the year 1415. For hundreds of years the French have lovingly referred to the Brits as 'Les Rosbifs'. You have to patronizingly forgive our poor French neighbors, because whatever pretensions they have regarding cuisine, they fundamentally cannot grasp the technicalities of producing a perfect roast. Neither could Le Cantine, which makes them authentically French. Sorry my dear French friends, to eat roast beef, you have to cross the ENGLISH channel and go to England.
So off to desserts, which are as safe and as boring as the rest of the menu. You have predictably Crème Brulee, Tiramisu, Crepes Suzette, and Mille Feuilles. Yes, all of them were perfect. But where is the excitement in the menu? It does not exist! Neither does the beauty you expect in the art of 'plating up' .This is a term used by professional chefs to literally create a work of art when they bring your dish to your table. There was none of it, and the food (good as it was) was placed on the plate without any design or showbiz sexed up beautification.
OK, so if you find this old-fashioned, 1960s menu appealing, go there and you will find it to be superb. As for me, I have far more demanding expectations which reflect leading edge, modern French cuisine. But what they give you is good, really good.
Michael Barclay