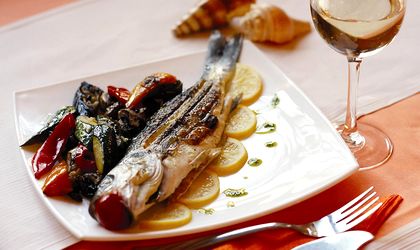 Taverna, Str Popa Nan 16, tel 021 252 2956
Many years ago I swore that I would never eat fish in Romania again, because it has the worst fish restaurants in the world. But every year I break that promise hoping to find one, just one real fish restaurant in the entire nation.
There is, for example, the truly vile, execrable On Plonge in Constanta, and if you survive that experience, you will be further disillusioned with Bucharest's offerings at the overrated, pompous and ridiculous Mesogios, or worse still, there is a plethora of burned offerings via Romanian restaurants who will all sell you fish tasting and sweating of  sunflower oil.
To put it another way, in my 20 years of living here, I have not encountered one real fish restaurant in this country. When I say "real" I mean that in the European and international context. But with Taverna, I truly believe I have found the best fish restaurant in the city. But be warned: "best" must be interpreted as being the best of a bad lot.
So, let's look them over. They are situated in a pretty dumpy part of the city. It is easy to get to, but the location is… well, a dump! But this should not put you off. Neither should the décor, which is… a dump! They have hardly spent a lei on the interior, which is basic wood and tablecloths, nothing more. But I repeat, that should not put you off from visiting it. Let me show you why.
I ambushed the chef, who told me that all his fish arrives fresh (not frozen) from Greece. He looked like an honest chap, so I refrained from examining my fish before he cooked it. However, I urgently advise you to always examine your fish for freshness in every restaurant you go to. A good House will welcome such a suggestion.
Starters were shrimps, octopus and squid, so you will have guessed by now that it is standard Mediterranean fare. They offer you these predictable goodies every way. Fried, grilled, in rings, in butter, in schnitzel. OK for the House, but they omitted my favorite way of just frying them up in lashings of finest olive oil infused with garlic. I asked for it like this, and they concurred without a complaint. Bravo House.
And bravo again for the quality. For I had a big, big whole squid together with a cuttlefish, both tender and subtle in a combination of spicy olive oil (cuttlefish) or grilled in garlic butter (squid). At RON 24 each, I was more than happy.
For mains, there was a choice of Dorada (sea bream), Sea Bass, Red Mullet, Tuna, Perch and Trout, all priced between RON 19 and 35 for large, healthy portions. I had a Dorada, but I insisted that the chef grilled it, coated in butter. Yes, he did so. It was perfect!
Now, here is a hint. Always twist the menu in a fish restaurant ever so slightly if you think it is necessary. A good House knows that fish is so very flexible in its preparation that the customer can always make a slight alteration, as I did with my butter grill.
This IS a good house and they made my slight change.
We finished with six huge, fresh sardines (at RON 15) which of course are nothing like the limp fillets you get in a tin. These are large and boney (but soft bones) and are ideal for sharing as a starter.
There are so very many ways of offering a fish menu, which you will only find in Europe, and as we know to our cost, Romania is not a European country. So abandon ye all hope of ever finding fish in this gastronomic desert which has been: streamed, or boiled in wine, or boiled in cider, or had a sauce accompany it made from fish stock (fish stock is a staple to a European chef, but will put a Romanian chef into a panic of confusion).
Nor will we ever see fish which has been baked to perfection with the juices reduced by a real chef into a fabulous concentrated sauce loosened up with fresh cream and abandoned to a frenzy of fine cognac.
No, no my dear friends, this is a gastronomically crude, Balkan nation which considers that fish should just be heated and served. How sad. But having said that, Taverna will satisfy your fish craving. Go now, test the chef by asking him to go "off piste" from his menu and alter it for you. I bet he will do so.
Michael Barclay