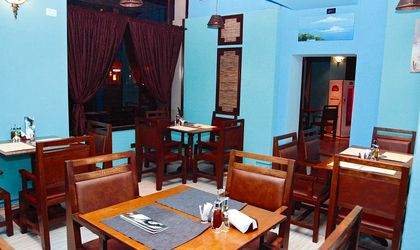 The Fishery, 17 B-dul Decebal
I could happily spend a lot of time in Decebal. It is lined with restaurants and bars which are so numerous they disappear over the horizon. The street is a grown up and adult alternative to Lipscani, and this is where grown up people like to meet, drink and dine.
Michael Barclay
So off we go to The Fishery. I have reached a point of despair trying to find fish restaurants in Romania which are the equal of fish restaurants in Europe. But I continue my lonely task and I can only report the best seafood restaurants in the land, and leave it up to you to decide if they match your expectations of fine fish cuisine. And on that note, The Fishery is OK! That means OK by Romanian standards, but not by mine.
The menu revealed 'the usual suspects' of fish which can be found on any menu in the land. And here begins the first problem. Romanian restaurateurs are prisoners of three fish importers who hold them to ransom by limiting their choices to the same, boring, river and Mediterranean fish. This results in a culinary prison sentence for the restaurateurs, which restricts them to unimaginative dishes. And worse still, if Romanian chefs had formal training in cooking fish, they could take you to heaven. But no! In this Balkan (Romania is not European) country the tradition is to heat fish, slap it on a plate and throw it at you. Skill and talent in the kitchen is not a requirement.
So the best you can expect is for your chosen fish to be tender and moist, rather than over cooked and burned. I am happy to say that this House gives it to you correctly.
So let's eat. Starters were reasonably priced between RON 10-15. They were a selection of fish eggs and slices of smoked fish. If that does not turn you on, there were fish balls (an interesting concept) and numerous 'gujons' (schnitzel fried tiny pieces of fish) in small proportions at a small price. I saw 'sardines in garlic sauce' which were not sardines at all. They arrived deep fried in flour as large 'whitebait'… but they were not sardines!
Main courses were reasonably priced between RON 28-50. Yes, you have guessed it: you were restricted to prawns, trout, turbot, dorada, swordfish, carp and mullet. But only IF they had them!! I asked my waiter to tell me what was NOT available, and I got bored listening to him before he finished his list.
Blondie and I waited for 30 minutes for our orders in a near empty restaurant, which told me that the kitchen was defrosting our frozen fish.
Away I went to a 'trout in champagne sauce with andives'. But the fabulously sounding sauce was nothing more than a sickly yoghurt. The trout however was perfect, after I had scraped off the yog, which they should have warned us about on the menu.
And that was not the only menu mistake they made. For I ordered 'clams (vongole) in white wine sauce. No they were not clams, but mussels (moules). How could they be so stupid? This was not an English translation problem because they described them as 'midii' in Romanian, ergo 'clams'. They just did not know what clams are, and yet they are a fish restaurant. But they were not bad. They were generous in size, horribly coated in flour but mercifully undercooked and juicy.
Off we went to a large 'salmon in caper sauce on a bed of ruccola'. Again, the salmon was perfect, but there was no 'caper sauce.' It was just a sprinkling of capers.
We ordered wine from an overpriced wine list. Romanian wines were listed as: Feteasca, or Cabernet Sauvignon, or Chardonnay… but without naming the brand. Given domestic prices, they were too expensive at RON 60, but unbelievably they had a bargain priced cocktail list at around RON 15. I defy you to find anywhere which sells a five liqueur 'Long Island' at that price.
But despite their mistakes, I would still urge you to go there. They are not bad, rather they are one of the best of a bad bunch. However, neither this House nor any other fish restaurant threatens the Crowne Plaza, which remains the top seafood restaurant in the land.