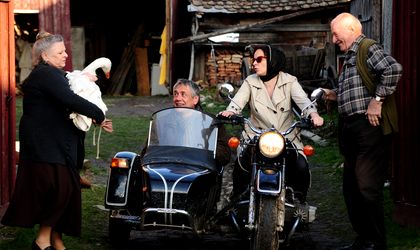 Warning
: Invalid argument supplied for foreach() in
/var/www/html/business-review/wp-content/themes/business-review/strawberry/setup/gallery.php
on line
71
Lucian Georgescu's debut as a feature film writer/producer/director uses as a starting point the short story Almost Oriental by American writer Barry Gifford (Wild at Heart, Lost Highway, Perdita Durango) who also has a cameo in the film. It is the story of an American professor compelled to turn his back on a successful career and go on the road, to go back to his roots to reclaim his identity.
Marcel Iures's character takes a nostalgic yet rewarding trip back to the Old World. "The Phantom Father is a road movie fusion with cherry on top, a film in which the final destination is actually the journey, turned into an exquisite dessert," says director Lucian Georgescu.
Described as "the only living American conceivably possessed by genius" (by Norman Mailer), Barry Gifford is an interesting combination of Jewish – through his Romania-born father – and Irish-Catholic blood. A famous screenwriter and long-time collaborator of David Lynch (director of Wild at Heart and Lost Highway), he's also the son of a Chicago gangster.
Interested in the origins of his family, he met Georgescu at TIFF in 2003. At the end of the festival they left together on an impromptu trip through Transylvania and Bucovina looking for clues to the writer's grandparents.
All that they knew was that their name was Stein, and they had emigrated from Bucovina. Close to the Ukrainian border, they stopped in Siret and in the local synagogue they found the family name Stein written on a stone in the wall.
This is where their quest stopped, as Gifford said he didn't want to know whether that was his grandfather or not. "Mystery is better than truth," added the Lost Highway screenwriter.
Director Lucian Georgescu says he agrees with Gifford. "And I agree with his former film buddy, David Lynch, who once said, 'Why should we explain everything?'," adds Georgescu.
"The Phantom Father is a memoir by Barry Gifford, a collection of short stories in which he created a portrait of his father from past and faint recollections," says Georgescu. "A brilliant text, but nothing actually related to the film, apart from the image of the childhood of a Chicago gangster's son. However, the foreword of that book contains the original idea – Barry recalls a trip to Europe and the discovery of his grandfather's transit visa papers in Vienna. The rest is more or less fiction," he adds.
The movie was selected in the official competitive sections of the Montreal IFF Uruguay, Mannheim-Heidelberg, Byron Bay (Australia), Capetown (South Africa) and Mons film festivals.
A version of the film with English subtitles will be shown at Elvira Popescu cinema from March 2-7. From March 9, the cinema will screen the French-subtitled version.
Anca Ionita
More photos from the film here