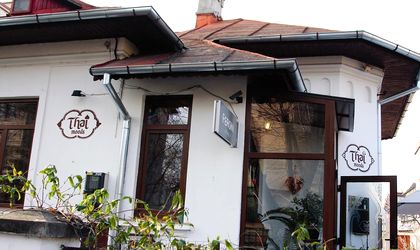 My friend Nigel had just flown into Bucharest from his home in Thailand, and demanded that I take him out for dinner after a long, exhausting flight. I agreed, and told him we were going to a Thai chophouse. "Oh no," he moaned, "I eat that stuff all day and night. Can't you take me somewhere different?" His pleas were in vain, for I told him that I wanted to see if his critical opinion on the authenticity of the Thai Moods food agreed with mine. It did!
Michael Barclay
But first let us look at Thai cuisine. It is the most fragrant and aromatic food in the whole of Asia, and when it is cooked correctly, it is sensational. Yet a lot of Europeans are afraid to do it as they are confused by the ingredients listed in Thai cookbooks. So let me make it simple by translating the basic ingredients, a lot of which can now be purchased here in Bucharest. So:
Rice – but Thai rice is called 'Jasmine Rice' and has a distinct flavor of flowers.
Ginger – but Thai ginger is called 'Galangal' and is distinguished by a deeper flavor than normal ginger.
Sugar – but the Thai version is 'Palm Sugar' made from the sap of the Palmaya palm, and it tastes like ordinary brown sugar.
Tamarind paste – widely available throughout Europe, it is made from the fruit and seeds of the 'Tamarindus Indica' tree which grows throughout North Africa and parts of South East Asia. It has not much of a flavor, but it adds a sweet and sour effect to dishes.
Basil – but Thai basil has a stronger earthy yet sweeter taste than European basil.
Lime leaves – but the Thai version is from their 'Kaffir Lime' tree, which produces fabulously strong leaves which can be frozen or purchased as a dried product in good supermarkets.
Lemon grass – a thick woody stalk used for lemon flavoring, but not for eating. You cannot use fresh lemon juice in high-heat stir frying, as the acid burns and destroys the dish. So the clever Asians grew lemon grass as an alternative.
Fish sauce – again available in most supermarkets, it is a watery pungent liquid made from fermented anchovies and used in almost every dish throughout Thailand and Vietnam. It is the alternative to soy sauce which dominates Chinese and Japanese cuisine.
Thereafter there is the copious use of such products as fresh mint, lime juice, peanuts, red hot chilies, coconut milk, coriander and cinnamon. OK, these are the basic ingredients. The problem with Thai Moods is that they use them all in profusion with no regard for measured amounts of each ingredient. So many dishes simply taste the same.
So away we go to the menu. I gasped in horror at the prices. With simple starters priced around RON 23 and mains around RON 60, this was totally disproportionate to the House's purchasing price of the ingredients. Yes, they are entitled to make a profit, but hey House – be reasonable, but not greedy!
For instance, six simple spring rolls at RON 23 was taking the piss out of the customer. I asked Nigel for his opinion on the choices and varieties available on the menu. He said they were authentic Thai dishes, but it was a safe 'tourist menu' for Europeans. In Thailand the locals would eat far more adventurously, and in many cases they would eat dangerously by cooking insects, snakes and generally anything that breathes.
But let's get back to Bucharest. Nigel ordered a starter of the classic soup dish of 'Tom Yum Goong' which is simply prawn, mint, tamarind and lemon grass. He has this almost every day in Thailand, but he said it was nothing like the real version. It was unidentifiable! Since this simple fellow has not been versed in culinary arts (or any other arts for that matter) he was incapable of reverse-engineering the ingredients in order to tell me what made it incorrect. But he pronounced it as such. However, he did not complain about the flavor.
I went for a simple starter of a few slices of chicken with a (peanut) satay dip. The chicken was chicken and the satay was lacking in depth and smoothness. So off to mains. I was astounded at the nerve of the House to charge RON 47 for a 'vegetarian fried rice.' It was vegetables, rice and pineapple. Naturally we passed on this rip-off!
But worse still was the price of RON 70 for 'Jungle curry'. In case you do not know it, there is no fixed recipe for this dish as it is traditionally the use of every surplus ingredient in the kitchen. So the House added prawns, pepper and coriander. No way at RON 70!
So Nigel chose a 'Penang Curry' at RON 60. It was an overpriced slice of thin beef with red curry paste (buy it in a jar at Mega Image), palm sugar, lime leaves, fish sauce and coconut milk. I had the world famous 'Massaman Curry' which should be meat of my choice, lime juice, tamarind, potato, palm sugar, cinnamon and coconut milk. We swapped dishes half way through. They were identical in flavor with the exception that Nigel had some beans and I had some potato.
Gimme a break! The House is just lumping together all the ingredients in the kitchen without any skill. At the end of our expensive meal, Nigel said it was just Thai "beach tourist" food, where the restaurants serve you nothing of beauty or quality, safe in the knowledge that they will never see you again, and that another mug is waiting to come in to take your table. He added that he would find far better in the Thai street markets.
That said, I have to admit that none of the food at Thai Moods was bad. Not at all. It was just disappointing to me and Nigel who know what the real thing is. In my most charitable opinion, the House has survived for the last five years because the locals do not know the incredible heights that Thai cuisine can climb to – but not here.
Being a Thai restaurant without any serious competition they will do well in Romania, where culinary ignorance reigns supreme. BUT that is like being the tallest midget in the world. It's no compliment, and nothing to be proud of.